Snappa review – pros and cons, pricing, and much more
Ever looked at big billboards, posters, or stunning Instagram stories and thought about whether it is possible to make it all by yourself? And the answer to this question is an absolute Yes.
In today's era of tech, there are multiple tools and website, that allows you to create the best graphic arts easily. You can now create professional-grade content without even breaking a sweat. And today we are going to talk about one of the best online graphic creators for social media, ads, blogs called Snappa.
So, without any further ado, let us dive right in and check it out.
What is Snappa?
Snappa is the fastest solution that anyone without extensive design knowledge uses to create graphics online. The platform was founded back in 2015, and to this day has been through many extensive improvements.
Before the introduction of Snappa, business owners used to struggle with digital arts. Not that there wasn't any available tool to do these graphics, but most of them were extremely time-consuming and difficult to learn. And hiring a dedicated designer was expensive as well.
But after the invasion of Snappa, it has truly become a game-changer. It offers a lot of pre-available designs, exquisite templates for creating blog posts, social media posts, and much more. Users can effortlessly take advantage of the amazing features o and the support for team collaboration.
Features of Snappa
Here are some of the noteworthy features of Snappa that make it stand out from the rest of its competitors.
One-click image removal
Image blur
Flipper
Image resizer
Image editor
Banner maker
Team collaboration
Add text to the image
Image cropper
One-click image removal
If you need the ideal backdrop for your image to shine, then Snappa is the way to go. With snappa once use image removal, you can easily swap the background of your portrait or images.
If you are running an e-commerce website, you can easily use this tool to make transparent backdrops to let your product shine. Influencers on social media can use this feature as well to showcase the brand they represent in the background.
You can also do this for computer graphics. But keep in mind that, that feature is only available if you are using the team or pro plans of the software.
Image blur
Whether you choose to upload your image or work on one from the app collection, the image blur is there to enhance the aesthetic. With the image blur bar, you can obscure any image. You also can adjust the saturation, hue, brightness, color, opacity, and much more.
Image Flipper
You can flip both the background and the front image with the click of a single mouse button. Even the icons on the image can be flipped horizontally or/and vertically, according to your need.
The vector images can also be switched, and resized for free with Snappa.
Image resizer
There is nothing more annoying than editing your graphics than finding out they are not in the right size. Well, no worries anymore. Because Snappa can now resize the image according to your preferred size for Twitter, LinkedIn, Instagram, YouTube, and much more.
Banner maker
With this banner maker feature, anyone with zero experience with graphics designing can create a professional banner in no time. These banners are perfect to use for ads, emails, and any social media. You can also choose your design from many sample banners for free.
Team collaboration
Looking for a graphics designer to work with as a team? Then Snappa has got that covered as well.
The team collaboration allows team members to view all the image folders, and edit and download easily. Team members can share their fonts, colors, and edits with administrative privilege. The administrative privilege allows you to choose the team members with who you want to share your specific files and work.
Snappa Plan & Price
The Snappa graphic editing solution is free for any new user who wants to try it out before fully committing. The free version can be used as long as you want. The started package offers you over 6000 templates to work with and over 5,000,000 HD images. But you can only download your work three times each month.
The PRO plan offers all the things you get in the started plan along with unlimited downloads, social media integration, and a background image removal tool. It cost only 10 USD per month.
With 20 USD per month, you can use the team plan that offers all the pro features but with the ability to share it with 5 team users.
How to edit a photo in Snappa?
Step 1: Create your profile
To start using Snappa, you need to go to their official website and click on get started for free. After that, you will be greeted with a window that will tell you to fill up some information for profile creation.
Step 2: Watch the tutorial
Once you created and logged in, you will be greeted with a tutorial that will teach you all you need to know about using Snappa to its maximum potential.
Step 3: create a graphic
After the tutorial, click on create a graphic on the top left side. You can choose your custom graphic size, or choose from one of the popular presets given below.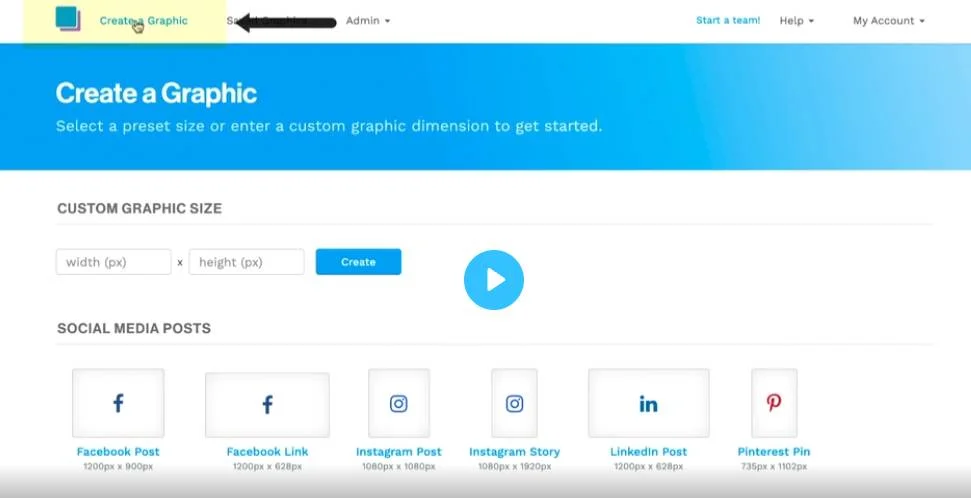 Step 4: Choose your template
Now scroll down and choose from many temples you want to work with. Once you have chosen your favorite template, double-click on it to start your work.
Step 5: Write your text
After you double-click your template, head inside and write the text you want to showcase on your work. You can choose the text type, fonts, style, shadows, color, and much more from the left side menu.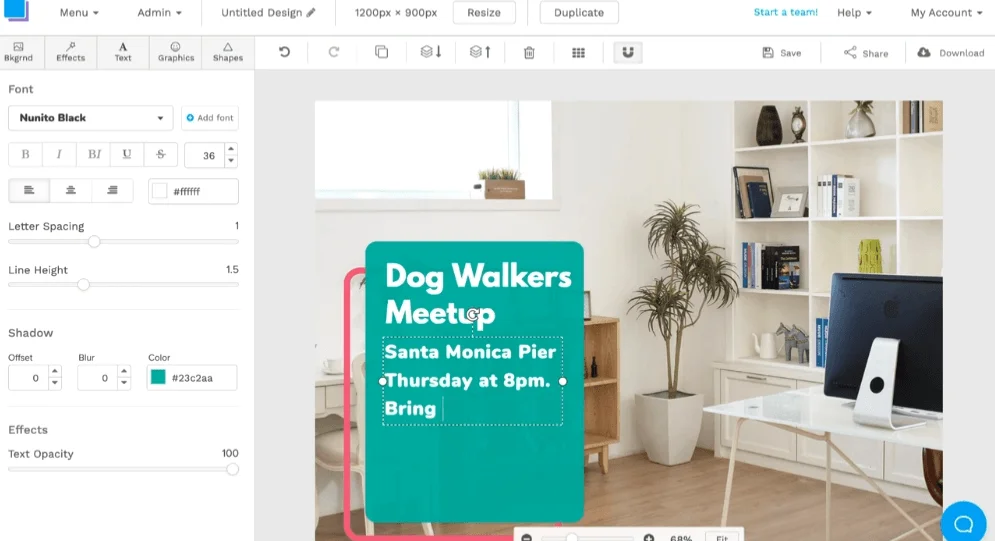 Step 6: Choose your background
Once the text is ready, go to the background menu and search for the background that better matches your project. From the search menu select the background image, reposition it to your preference and apply the changes.
And once you are happy with the post, click on save to save it to your device.
PROS and CONS of Snappa
Now that we know what Snappa has to offer and how to use it, let us take a look at some of its pros and cons of Snappa.
Pros
user-friendly and easy to use, even for a newbie.
Ability to export in Retina quality.
Massive selection of templates for business use.
Only need to modify the existing templates.
Best for marketing ads.
Cons
Limited to only raster graphic format.
Do not have advanced features.
Can only be used when connected to the internet.
FAQs
Final Word
Snappa is a pretty straightforward and easy-to-use tool for illustration, and image development. You do not need any professional-level experience or training to be a graphics creator in Snappa.
There is nothing that we could hate about Snappa. The only thing that would be the icing on the cake is the addition of some more advanced features. But knowing that they are offering this amazing tool for beginner-level creators, we can look past this issue.
So if you are looking for a beginner-friendly solution to creator your social media posts, ads, and blogs, then try Snappa today.