AutoDraw Review: A Free but Premium Drawing Tool
If you enjoy drawing and doodling but find it difficult to do so with a cursor on the computer, Google may well have a solution for you. AutoDraw is an online-based tool by google that works with Google's latest artificial intelligence. This free tool makes the drawing task easy by adding an auto-detection feature; it knows what you are going to sketch.
If you are willing to create drawings quickly and effortlessly, you should think about using AutoDraw as your drawing tool. AutoDraw's goal is to make drawing and creation simpler and more enjoyable for as wide an audience as possible.
What is AutoDraw?
AutoDraw is one of the best free but premium and popular drawing tools. This technology uses machine language to turn sketches, doodling, and rudimentary designs into unique, conventional iconography. The use of the tool is simple and enjoyable; just choose a color and begin sketching. Making anything aesthetically is completely free, and it does not need the download of any other software.
For anyone who wants to create anything visual quickly, this tool combines the power of artificial intelligence with drawings created by accomplished artists. Sketchers who are just starting or who just like sketching in their spare time may find this program to be enticing.
Features of AutoDraw
AutoDraw drawing tool comes with a set of excellent features and functionalities. These features and functionalities are detailed below:
Free but excellent tool
The first and foremost feature of this intelligent drawing tool is that it is totally free to use. That means you don't have to pay any cost to use this web-based tool. Just access the tool with any web browser software and then start your journey. You don't also have to create an account to use this drawing tool. Although it is a free tool, it is totally free from ads. Users are free to use it whatever they want and as much as users want.
No need to install anything
One of the best things about the AutoDraw tool is that you don't have to install any software to use this tool. It is a web-based tool, and you can access this tool with any web browser software like chrome, bing, and many more. This means you can use this drawing tool without installing it, which prevents storage waste of your device.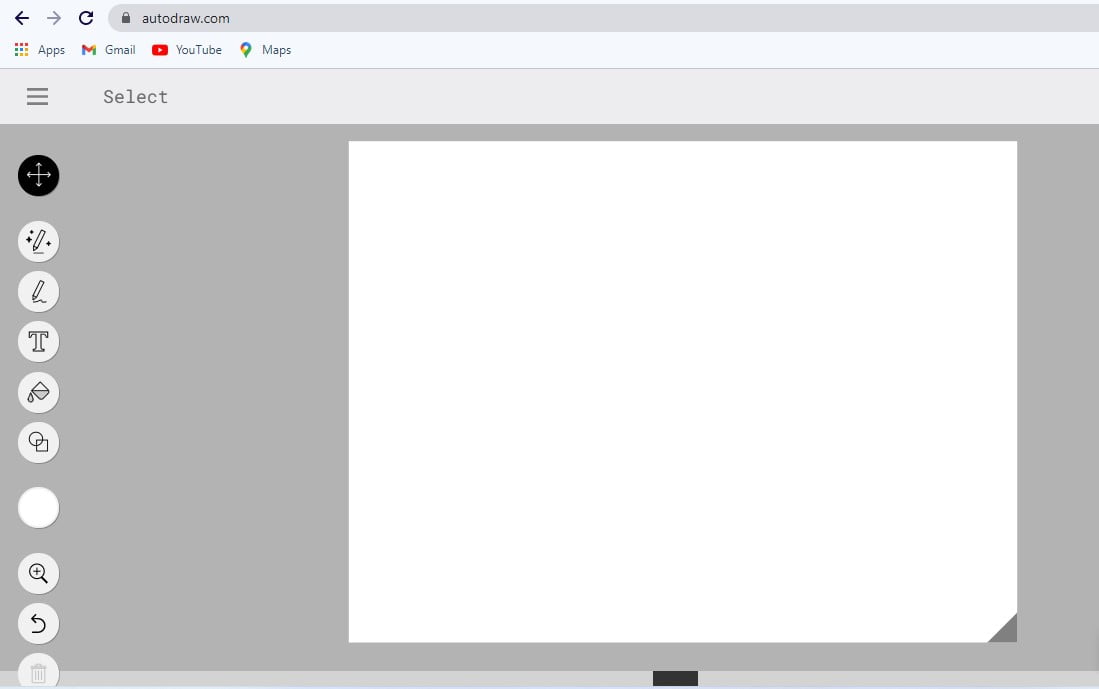 And it works on any device, including smartphones, tablets, laptops, as well as desktop computers. No matter which device you use, you will only need a web browser to access the tool. Auto Draw has been very popular in recent years, therefore contributing to the restoration of aesthetics to a larger level.
Simple and Easy to use
AutoDraw is a web-based drawing tool that works in a simple way. It features a simple and user-friendly interface that is very easy to understand. Shape, color, text, as well as free-draw choices are all available via a menu on the left side of the Interface. All the functions are easily accessible and also very easy to use.
Using this tool, users may fill in the drawings with color, as well as add shapes as well as text to their works. You may share or store the final outcome after you have achieved your goal. As much as designers preserve the beautiful stroke of something like a pen, we equally admire accuracy. Using AutoDraw to draw out certain geometric principles might help make the graphic as simple as possible.
Artificial Intelligence based tool
Its abilities are derived from Ai Technology: as soon as it starts sketching, the AI behind that one begins attempting to comprehend what you are creating. This is followed by a search for comparable drawings in its database based on what you've drawn.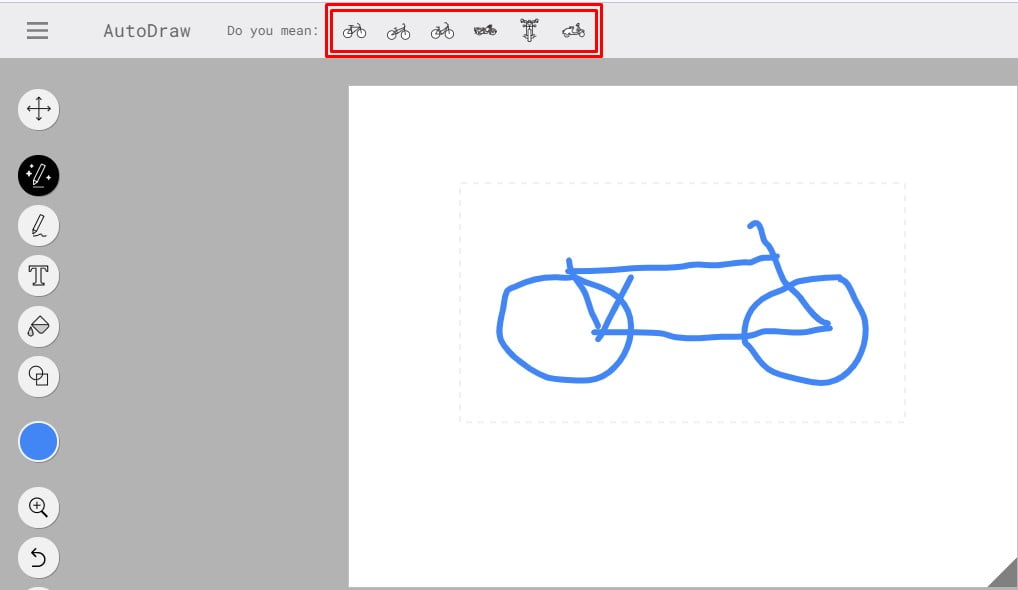 They are all represented by little symbols at the top of the "Do you mean?" list. As soon as you realize that the drawing you intended to do is also one of the similarities detected, you may click or touch on that drawing. AutoDraw will replace the sketch with the superior version through AutoDraw.
Work with mouse and touchpad
No particular input is required, and it is very simple to use. Users can interact with the device in the same way that would usually do so: on a computer or even a laptop, users can use the mouse/touchpad, though on a smartphone or tablet, users can use their fingers to hit the button to interact with the device.
How to draw in AutoDraw?
Drawing in AutoDraw is a simple as well as easy task. You don't have previous experience with sketching in this tool. Here is an ultimate step-by-step guideline to draw something in AutoDraw.
Step 01: Get access to the tool
To draw anything in AutoDraw, you have to access the tool first. To access this tool, go to any browser on your device and enter https://www.autodraw.com/ into your web browser.
Step 02: Try to understand the interface
After inter the official website, you should try to understand the user interface of AutoDraw. In the Interface, you will find 10 several tools to sketch.
Select Tool: To select the object or your sketch
AutoDraw Tool: It will transform your sketches, doodling, and rudimentary designs into unique, conventional iconography.
Free-Hand Tool: It is used to sketch freely
Text Tool: To add text with your sketch.
Fill With Color Tool: This tool is used to fill your sketch with color.
Shape Tool: Add shapes to make your drawing easier.
Color Selection Tool: Choose several colors to fill the sketches.
Zoom Tool: To zoom the page.
Undo Tool: You can undo something like missing with this tool.
Delete Tool: To delete the object that you want.
Try to understand the functionality of these tools.
Step 03: Draw what you want
Two tools can be used to draw with AutoDraw, one is AutoDraw, and the other is Free Tool. The AutoDraw tool will give your drawing a fine look by matching it with any object. That means it knows what you want to draw. On the other hand, with the free tool, you can draw a picture of any object as you wish.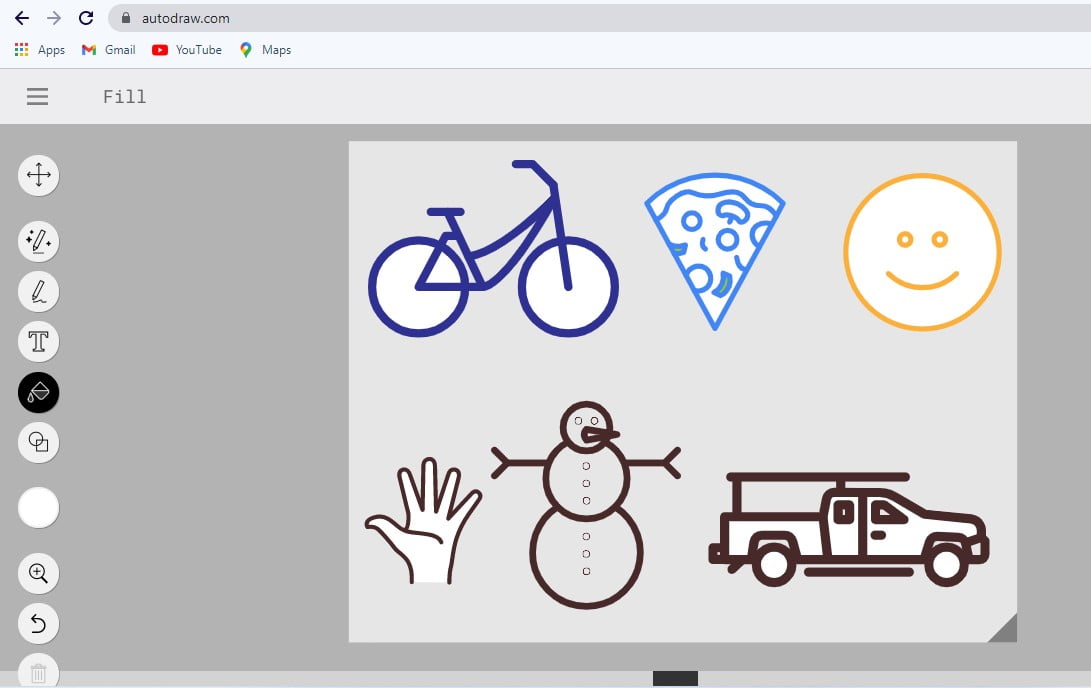 Step 04: Color you draw
To color, your drawing selects the color that you want and the select fill tool. Now just tap the spot where you want to fill with color. There is a lot of color option to choose from.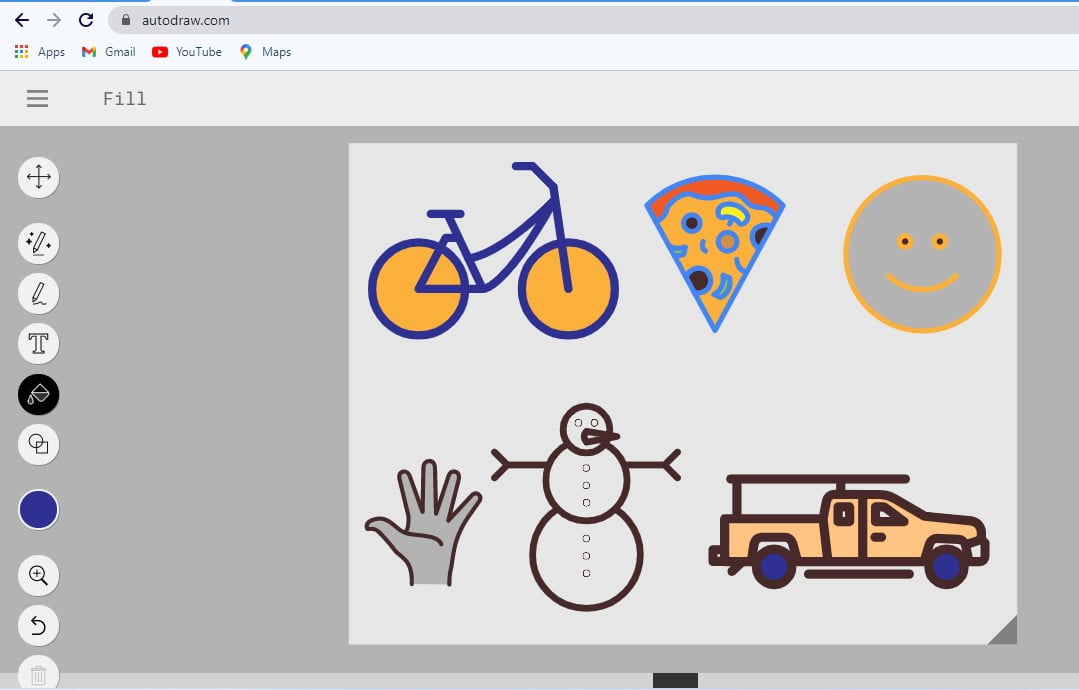 Step 05: Save your drawing
If you really like the AutoDraw outcome, you can save it to the device and share it on social media networks like Facebook. AutoDraw allows you to save the file as only a PNG file.
PROS and CONS of AutoDraw
Pros
This drawing tool is totally free to use
No need to download or install anything
AutoDraw tool is simple and easy to use
It works with any browser and any device
Artificial Intelligence to improve the artwork
Cons
Limited shape option; only 3 shapes available
FAQs
Final Word
Most of us aren't born with the ability to create instantly identifiable images on a computer screen. With AutoDraw, drawing something that would have been acceptable to share with colleagues in a presentation or a neighborhood flyer is easy. You can play a game of Pictionary well with the computer using the tool here.