Sumo Paint review: Complete software guide with pros, cons & pricing.
Photo editing has become an integral part of any business, whether it is website design, branding, photography, or even marketing. A photo editor can elevate any simple photo and can make it look appealing, vibrant, and exciting.
But with so many photo editors on the market, it is tough to find the right photo editing tool for your need. Keeping that in mind, we have come to you with a complete sumo paint review, the top solution for all photo editing needs. For advanced users, Sumo paint also comes will with support for full retina resolution from the get-go.
Moreover, even though it is free-to-use software, it comes with various amazing features like web graphic design, sketches, fill, smudge, clone, blur, and much more.
What is Sumo Paint?
Sumo Paint is one of the most feature-rich online image editor applications. With studio-grade OpenGL-based painting engine at its core, the software can handle highly accurate editing and painting tasks at an astounding speed. Although this is free to use online photo editor, it offers a massive number of features including image manipulation, web graphic design, smudge, blur, gradient, clone, and much more.
To this day, there are over 4 million users of this program. And the great thing is, that the Sumo Paint community allows you to share your work, take inspiration from their projects, and edit and help new users out with any query.
Features of Sumo Paint
Here are some of the noteworthy features of Sumo Paint that can provide you with an amazing photo editing experience.
Cube designer
Cube designer feature enables you to rotate, adjust lighting, wrap the image, and much more with the click of a single button.
Gradient editor
Gradient editor is one of the biggest features of the application. With the gradient editor, you can easily change the saturation, brightness, hue, and many other aspects of the image directly from the editor.
Linear blur
Linear blur is one of the most used filters of the software. The linear blur effect can simulate the depth of field and allow the user to adjust the intensity and position of the blur effect.
Perspective mapping
The features map the photo you want to edit on a plane of a massive number of small tiles. You can then adjust the perspective of the image by dragging the image.
Lighting effect
The lighting effect feature uses an AI filter to adjust the shadow and lights of the image. You can use a virtual light source onto your image and reposition or readjust the intensity of the light.
Mosaic
Mosaic is a fun effect that breaks down and reassembles the image into various geometric shapes. Sumo Paint offers 24 different mosaic designs and patterns to take your image to a whole new level.
Gradient fill
The last feature we have to talk about is the gradient fill. This feature lets you choose from a massive collection of preset shades and create any gradient fills on the software's shape tool
Sumo Paint Plans & Pricing
Sumo Paint is free-to-use software that is used for creating and editing images. But if you are willing to pay a small price for the Pro and Edu plan, you will be able to utilize this tool to its maximum potential without any interruption from ads.
The business structure of this software is through running ads. In the free version of Sumo paint, you will have to work with limited storage, and only be able to use the online version of the software. There will also be occasional ads shown while working within the software.
That being said, if you are not a power user, the free basic plan has more than enough features to cover all your needs.
On the pro plan, you have to pay 9 USD per month. The subscription enables you to download your edited photos at maximum resolution, and provides unlimited editing features with zero advertisements.
There is also a paid plan for students, that offers learning material with the software.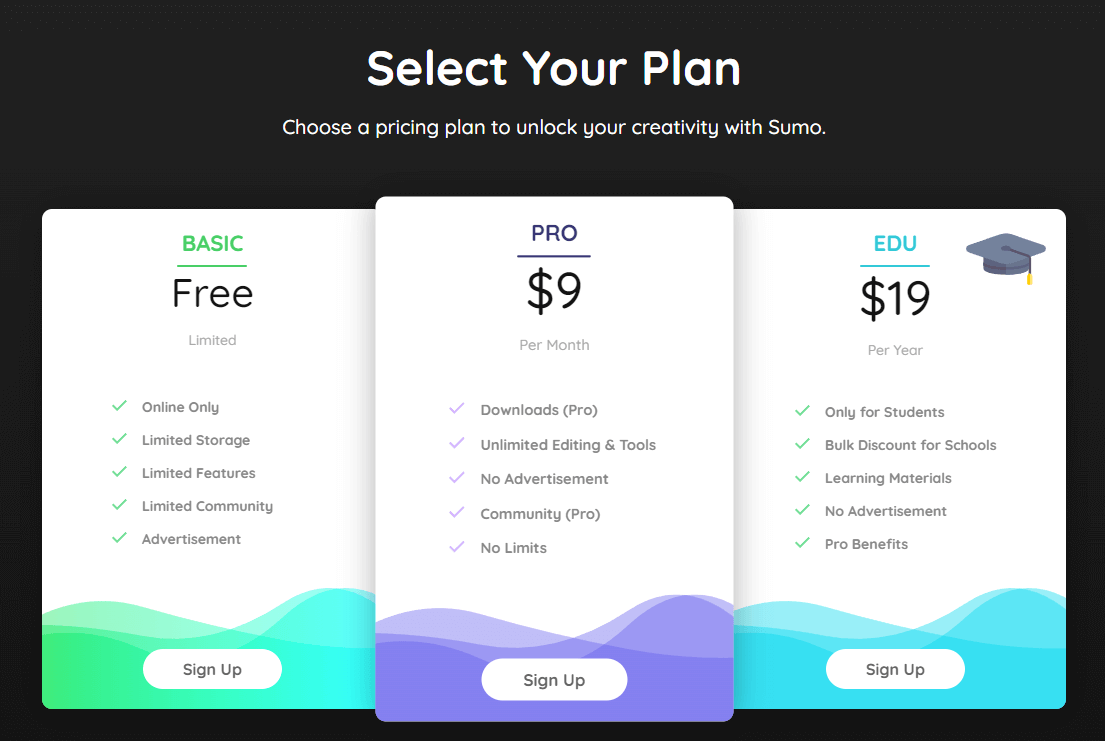 For more pricing information, make sure to check out their pricing structure.
How to edit a photo in Sumo Paint?
Step 1:
Go to https://sumo.app/us and click on open to open up the Drawing Tool and Image Editor. Most of the drawing tools and editing features can be used for free.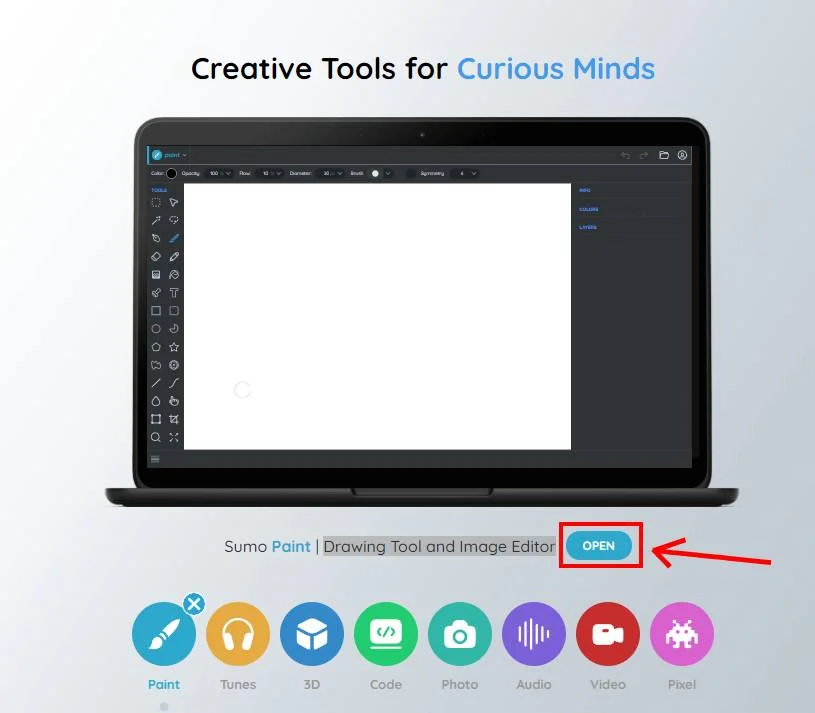 Step 2:
For layering, click on the layer > Import to Layer > From My computer.
Step 3:
Once your image is uploaded to the sumo paint editor, you can go to layer effect.
The layered effect has a good number of effects like,
Drop shadow
Inner shadow
Outer glow
Color overly
Gradient Bavel
And much more.
Step 4:
You can check on the sidebar on the left that offers various tools like,
Shapes
Pencil tool
Text tool
Magic wand tool
Ink tool
Crop tool
And much more.
Simply click on the tools that you want to use and edit your image with them.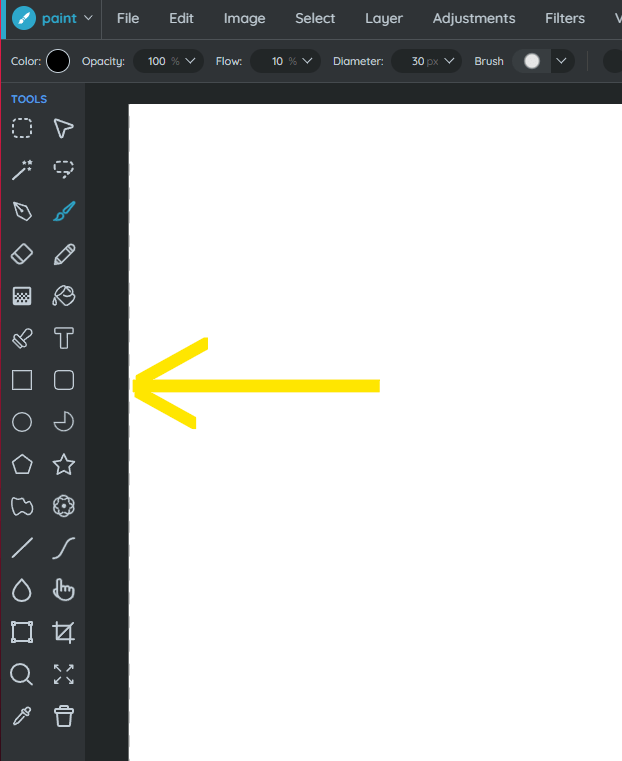 Step 5:
Once the drawing or editing is finished, go to File > Export to save your file. You can also press Ctrl + E to save the drawing in your preferred format ( GIF, PNG, or JPEG).
You also can press CTRL + S to save the work as a sumo project on your computer.
 How to Download and Install Sumo Paint on PC/laptop?
Many of us want to work offline with our image editing projects. And even though sumo paint is an online image editor, it has an offline option that you can use to download Sumo Paint on your Desktop computer or Laptop.
To download the software,
Step 1:
You will need to purchase their pro subscription which comes at only 9 USD per month.
Step 2:
Once you have the subscription, go to the Sumo App webpage.
Step 3:
Now click on the sign up for full access link on that page which will take you to a signup page.
Step 4:
Once you are signed up, your installation file will start downloading. After downloading, the .exe file simply installs the package, and you will be able to use sumo paint software on your computer offline.
PROS and CONS of Sumo Paint
Sumo Paint is one of the most loved online photo editors in the community. There are many pros to using the software. However, there are also some downsides that we need to talk about.
Here are the most noteworthy pros and cons of the software.
Pros
Very user-friendly and easy-to-use interface
The advertising on the free version is nonintrusive.
The tools for digital drawings are phenomenal.
Has a desktop offline version for the paid plan.
A massive number of features to use.
Cons
The price for the subscription is quite high.
The text management feature is quite average
Some of the tools lag during work.
FAQs
Final Word
That ends our today's discussion on the complete Sumo Paint review. This online image editor is one of the best in the market with a massive set of tools, features, and an amazing community of users.
The premium plans also allow you to download Sumo Paint on your desktop or laptop for offline use. So visit the sumo paint website and try this amazing image editor today.