FotoJet photo editor: An Amazing Photo Editing Tool
Online-based Photo editing tool makes the photo editing task easier for beginner to expert. There is a lot of online-based photo editing tool that allows you to edit photos and give them a whole new look.
FotoJet is such a kind of functional photo editing tool that let you edit photos, make a collage as well video editing in addition to the photo editing function. This tool has a lot of advantages that we'll discuss in this FotoJet photo editor review.
What is FotoJet Photo Editor?
FotoJet is an online-based photo editing solution that allows designers to generate social media pictures, banners, collages, and much more using built-in templates. To modify photographs, the platform provides features like rotate and flip, overlays, colors splashes, radial as well as tilt-shift, photo frames, and much more. It also allows a designer to use a single interface to create infographics, invites, and brochures by cropping, rotating, resizing, adding text, and using clip art pictures.
Features of FotoJet
FotoJet is one of the best and most popular photo editing, collage making, and graphic designing tool. It has a lot of exclusive features, and all of them are amazing. Here are some of them_
Easy to Use
Everyone can become a picture editing pro in a matter of minutes. Using these simple picture editing tools in conjunction, you may get the ideal style without the need for any specialized graphic design knowledge or experience. You just need to utilize a few clicks of these simple editing tools to take your images to a whole new level of quality.
Premium Templates
FotoJet has a plethora of templates that are excellent in quality. These can be increased in the app's upgrade and paid versions, although the freemium edition currently has sophisticated design capabilities. FotoJet also works with Pixabay as well as OpenClipart to provide seamless integration. Users may now access photographs and clipart from the application and the local storage to create more advanced FotoJet creations.
Several Editing Resources
This application provides a plethora of graphic options to help you create great images. Choose from a variety of 50+ picture effects/filters in seven categories, featuring B&W, Sepia, color contras, Vintage, Lomo, Scene, and much more. To use, choose from 800+ pre-made clipart pictures or browse among 93,000+ images available online. There are also a variety of additional materials accessible, such as 30+ preset font styles, 70+ precise overlays, and 40+ different sorts of frames.
Great Inspiration
This all-in-one editor can provide you with a variety of picture editing possibilities. You can perform color changes such as Brightness, Exposure, Contrast, Highlighting, and Shadows, as well as crop, resize, and rotate your photographs. Text may also be easily altered using a custom font, color, as well as style.
Powerful Graphics Tools
FotoJet allows users to produce visually spectacular artworks with minimal effort on their part. The program is loaded with strong capabilities that enable artists, designers, and even casual users to create complicated designs in a short period of time using the application.
Pricing and Plans of FotoJet
Fortunately, the FotoJet photo editing tool has both free and premium versions. While the free version is good enough for a beginner, paid version lets you access more features of this tool. The most amazing thing is that this tool does not cost too much that will break your bank. You have to pay $39.99 for a year for FotoJet plus. You can also pay monthly; it will cost $6.99 for a month basic.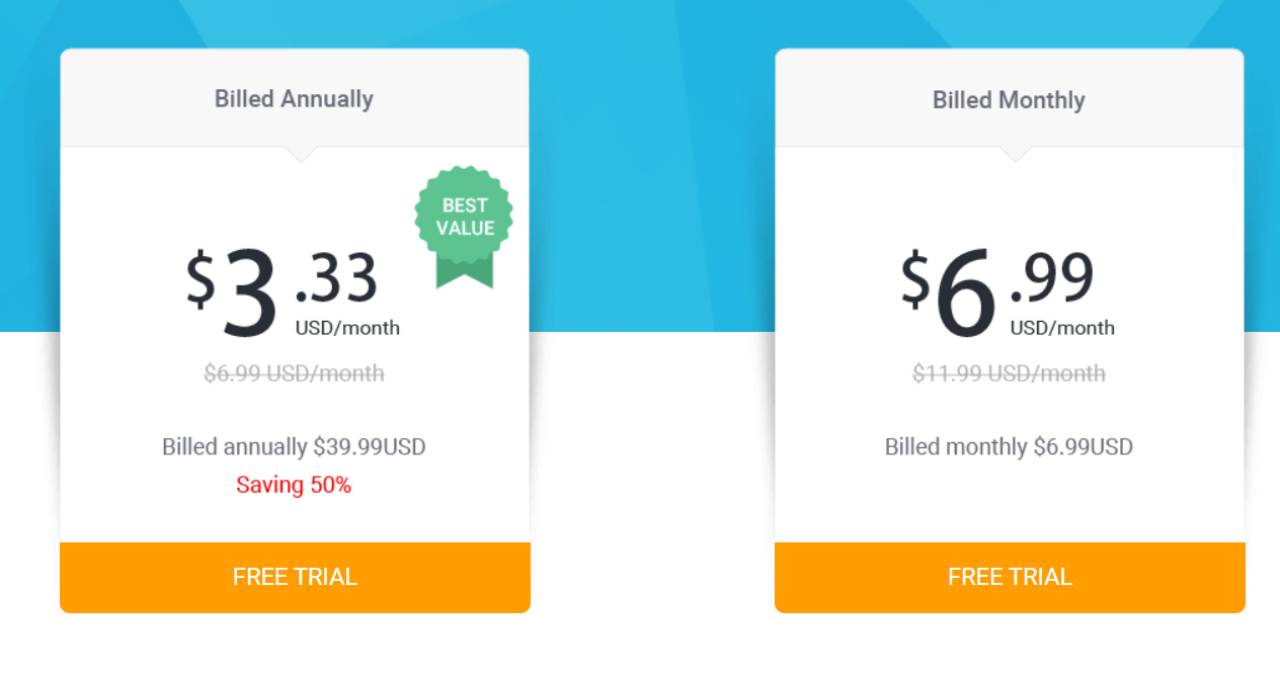 How to edit a photo in FotoJet?
It is very easy to edit the photo in FotoJet. This tool comes with a simple and user-friendly interface that makes it easy to use. It also has several exclusive editing functionalities that will make your photo excellent after editing. So, now it is time to edit the photo in FotoJet. Read this step-by-step guideline to know how to edit the photo in FotoJet.
Step 01: Import Photo
Go to the FotoJet tool and then click on Edit a Photo Option.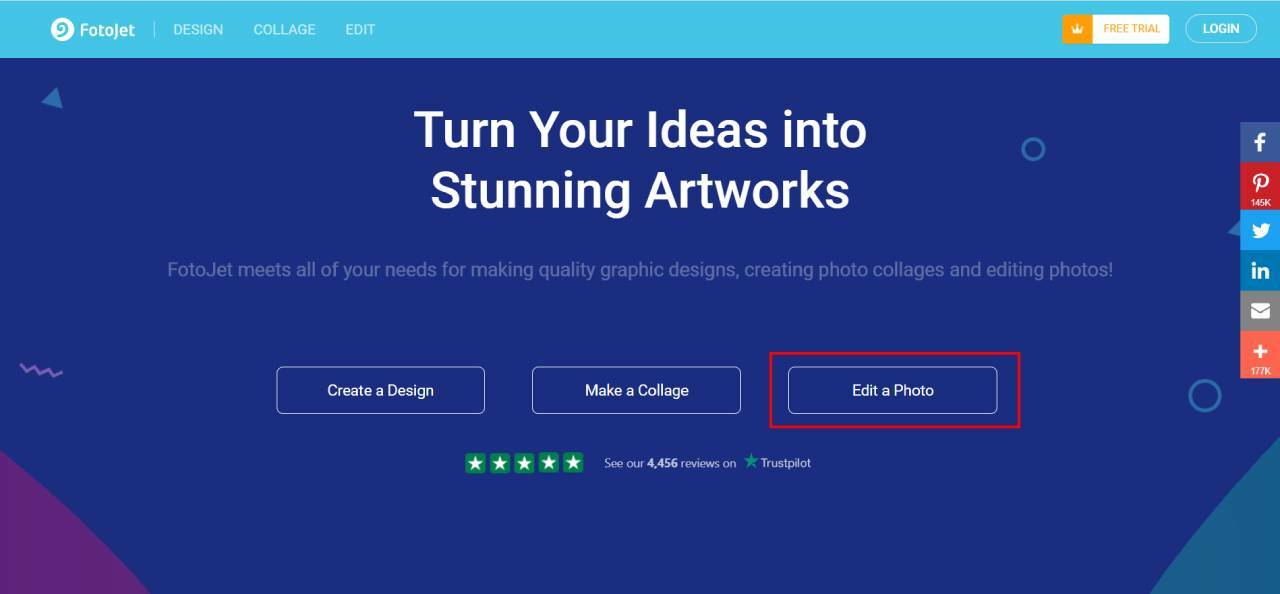 After clicking on this option, you will get a new window where you have to import your targeted photo to edit. To import a photo, click on the OPEN option, then click Computer and then click Open after choosing the targeted photo that you want to edit.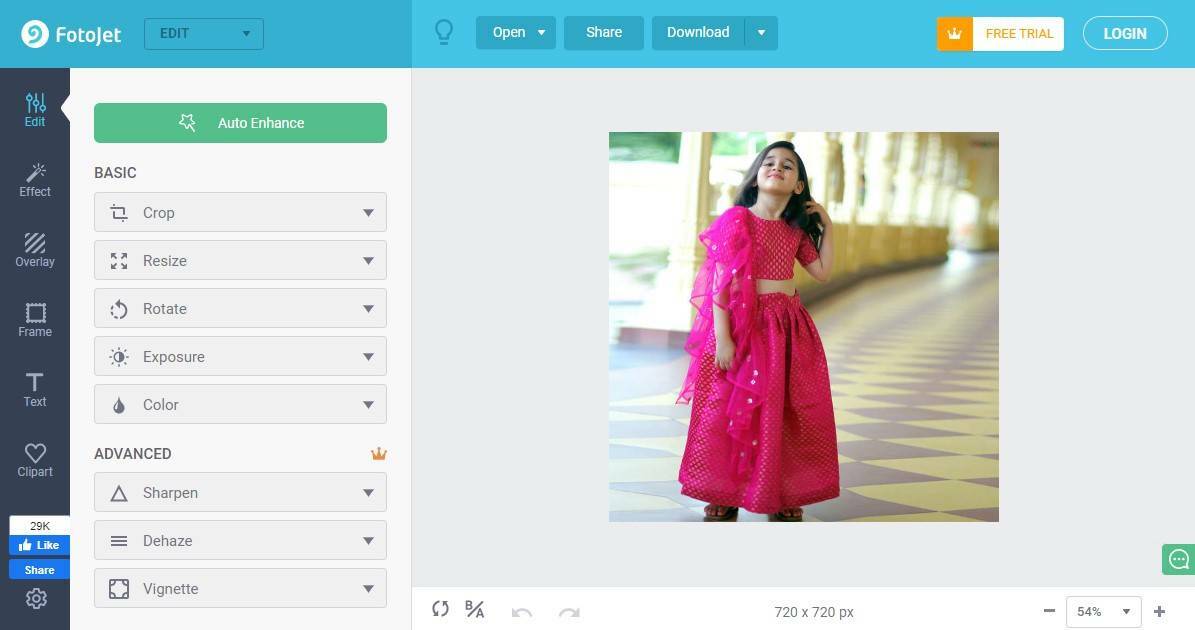 Step 02: Apply Edit Functions
After opening the image to the interface of the tool, now it is time to do some basic editing. Here are a lot of editing functionalities in this tool. However, you have to upgrade your plan to get access to the ADVANCED functionalities.
I applied 3 several editing functions; Crop, Exposure adjustment, and color adjustment. You can also resize as well as rotate the image if you want.
Step 03: Apply Effect to enhance quality
The effect is one kind of Pre-made excellent color combination that makes the image more eye-catching by enhancing the overall quality. There is a lot of Effects available in the FotoJet. Apply one by one to the image and see the difference. Finally, apply the one that meets your expectation. Here in this image, I applied Chromatic>Chromatic-9.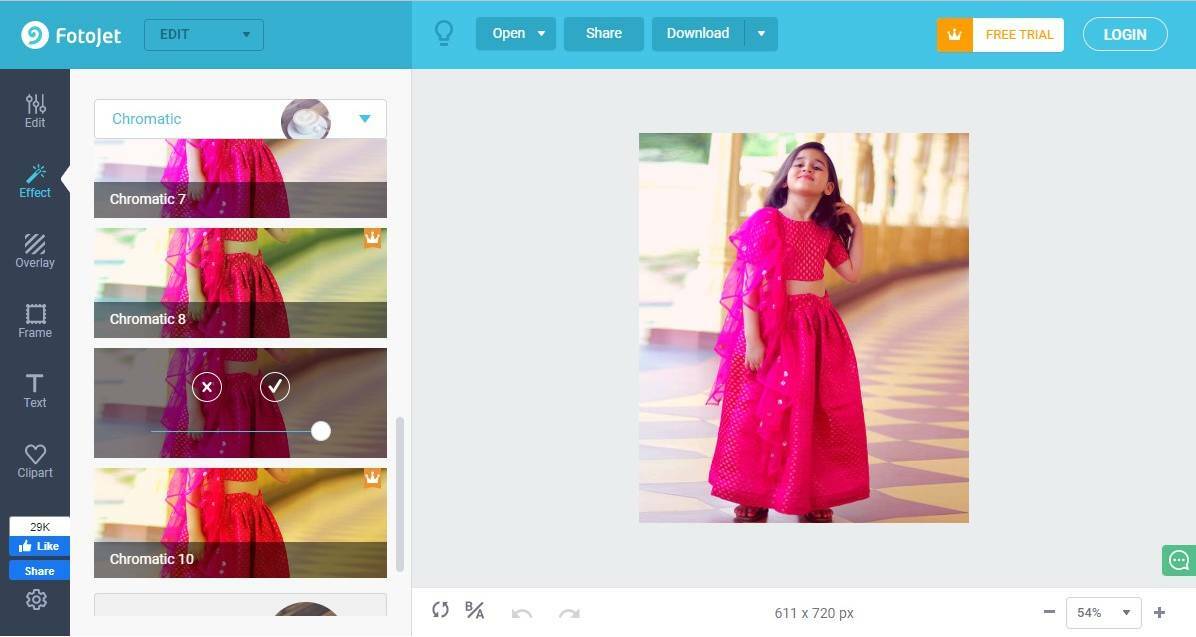 Step 04: Make the image amazing by Appling Overlay and Frame
Overlay and Frame are not required for photo editing. However, its application can make your image more amazing and visually pleasing. So, you can apply these 2 functions if you want.
There are a lot of overlay and frame designs, but most of them are available for only the PLUS plan. Here in this photo, I applied Light trial as Overlay, and as a frame, I applied Classic frame design.
Step 05: Apply other functions and Export the Image
Here are two more editing options to apply in this tool; Text and Clipart. Here are a lot of Clipart options to choose from. So, after applying these options, now it is time to export the image. Fotojet let you export the edited image in JPN and PNG file.
How to make a collage photo?
FotoJet is one of the most popular Collage photo maker tools. It is also very easy to use; you can easily make Collage with this online-based collage maker tool. If you don't know how to make a collage photo in FotoJet, then you can follow this step-by-step guide below.
Step 01: Open any browser on your device and then go to the FotoJet collage maker website. You can also download FotoJet Collage Maker and use it after installing it on your PC. So, after getting access to the tool, you will find a lot of pre-made collage templates here.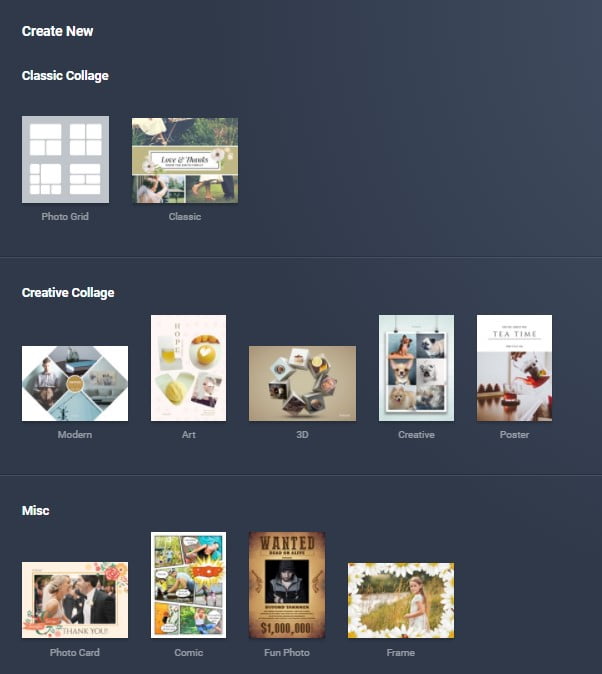 Step 02: You can now choose a pre-made template to make a collage photo. You can also go for a simple layout design; it has a lot of layout designs to choose from.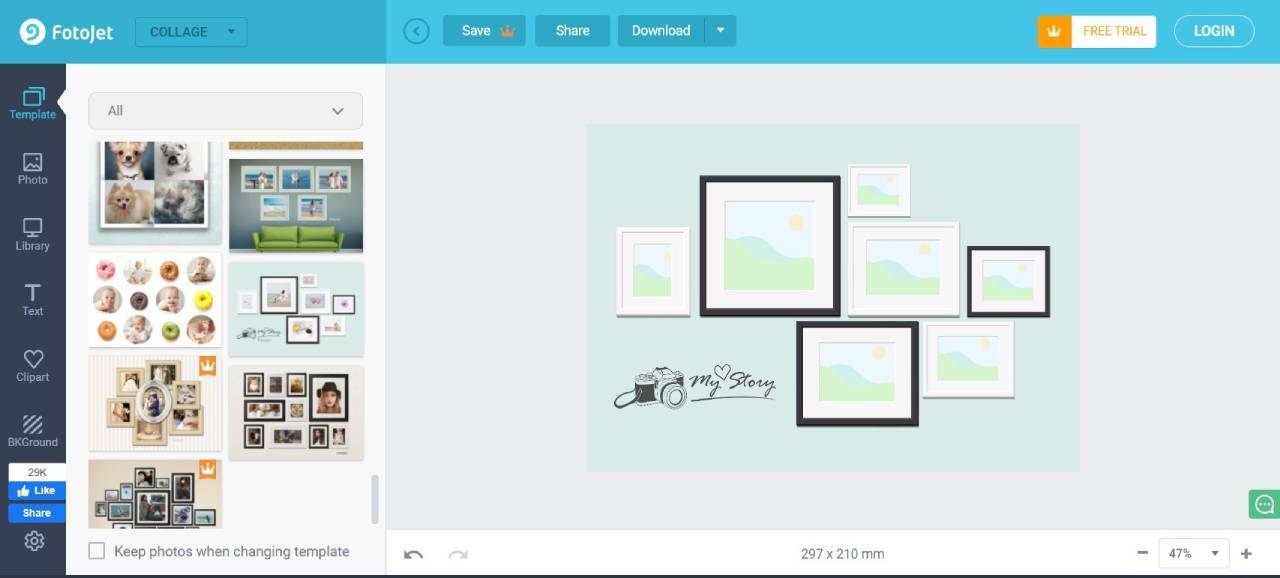 Step 03: After choosing the layout design or a pre-made template, now it is time to import your photos. The number of photos you will need depends on the grade of the layout or template design. Here in this tutorial, I've chosen a template that has 7 grides. So, I've to import 7 of my targeted photos.
To import photos, go to the library and then click on the Add Photo option. It will allow you to choose your targeted images and import them too there.
Step 04: After importing the images, now you have to fill the grids with your image. Simply drag the image and drop it into the grid. You can also adjust the image by Zoom in or out, applying Effect and basic adjustment.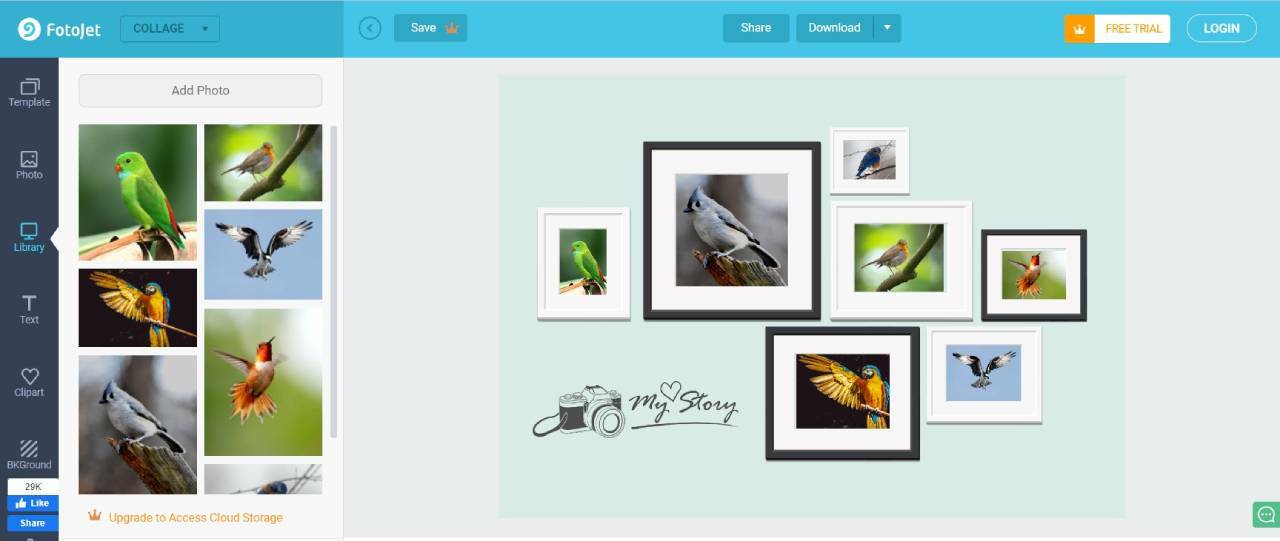 After getting your expected outcome, export the image to your device and enjoy.
How to download and install FotoJet for Windows PC?
FotoJet makes it easy to use this tool by allowing the user to download and install the tool is a desktop or laptop. Now, you can download and install FotoJet to your PC and use it by access easily. It is very easy to download the tool and install it on your computer. Follow this guide to know how you can download and install FotoJet on your PC
Step 01: Open any browser and then go to the FotoJet Download Link. Here you will find 3 several downloading options, and you can download any one from them according to your need. For instance, if you need to use the FotoJet collage maker tool, then download this tool from the given option.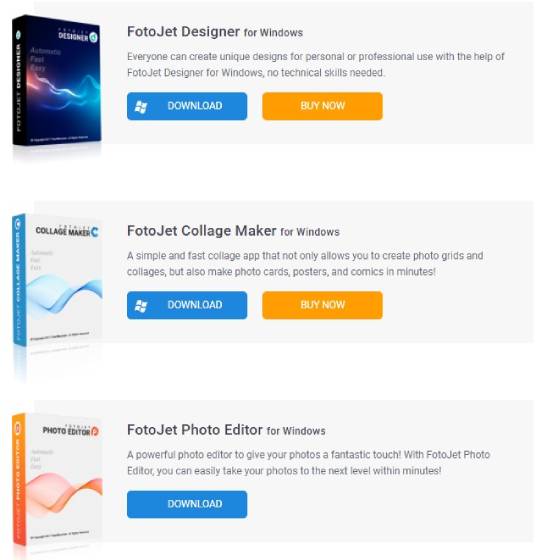 But one thing we should mention is that you have to pay to download FotoJet Photo Editor for Windows. This one is paid software, and it is available in Microsoft Store.
Step 02: After completing the download, go to the downloaded file and then double-click the file, and then follow all the installing instructions. The installation process is almost the same as other software.
Step 03: After completing the installation process, now it is time to enjoy the tool. Open the software; it is ready to use.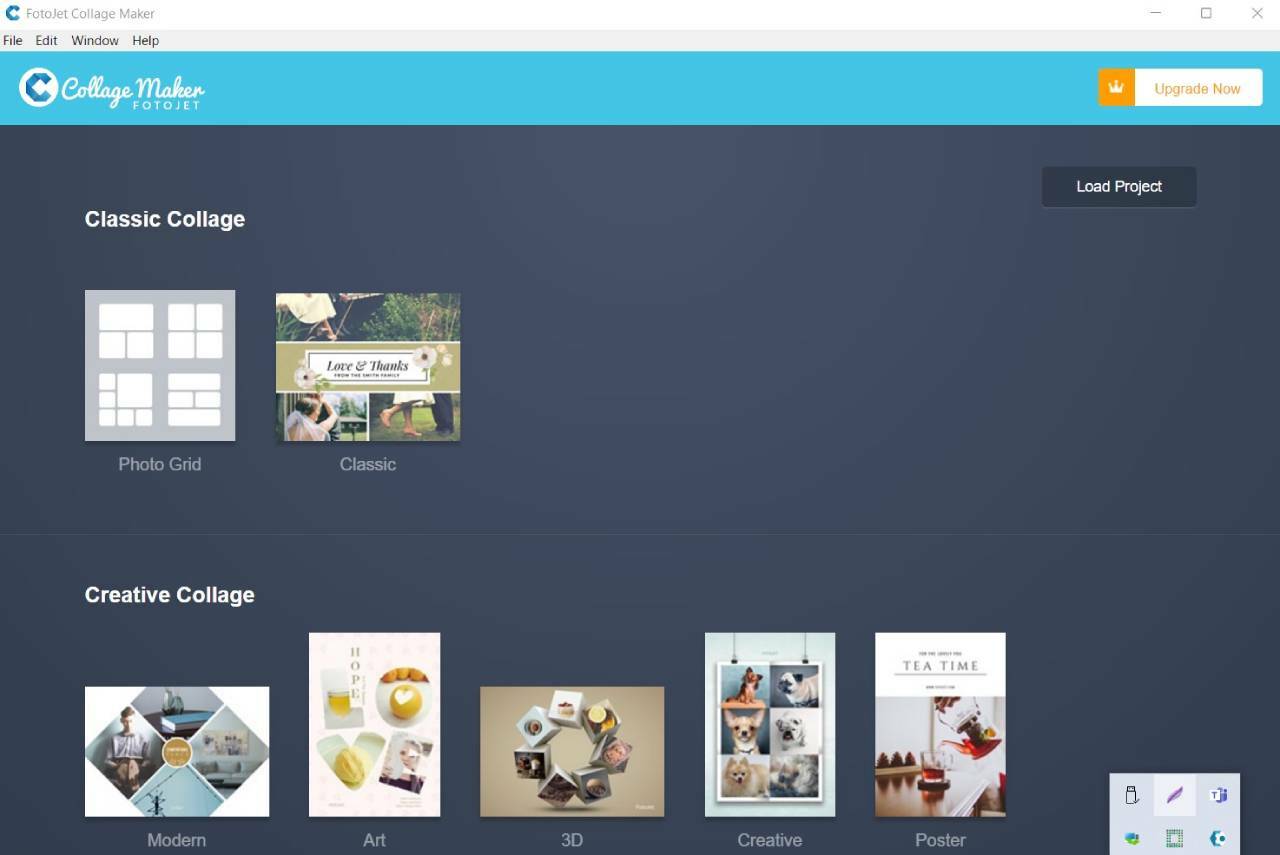 PROS and CONS of FotoJet
Pros
This photo editing tool works on almost every computer platform.
Original templates that outperform the competition are included
The point-and-click interface of this tool is simple to understand
The FotoJet collage creator is a unique and appealing function
With only a few clicks, professional artwork can be made
Cons
The only seven-day free trial may be too short
The number of images in the collection is limited
FAQs
Final Word
With FotoJet's top-of-the-line design tools, it is possible to edit photos for free and create stunning graphics. Without the need to register, you can access the software and begin using it immediately. With its free version, you may access a plethora of pre-made templates for generating beautiful designs quickly and easily. For all the photo editing needs, FotoJet Photo Editor is here.