Cutout.pro Review: Best Image Background Removal Tool
Are you seeking a background removing tool instead of photoshop? Do you want to remove the background from the image with just a single click? The Cutout is one of the best online-based tools that remove background as well as any unwanted object from an image with just a single click.
Using a cutout to remove an object from its background is a popular practice in photography. You have to spend hours meticulously removing the backdrop in order to get an isolated topic in the past. The process of removing topics has never been simpler! You can learn more about Cutout Pro in this review.
What is Cutout.Pro?
Cutout is a web-based tool that is mainly used to remove background and unwanted objects from the image. This tool comes with both free and premium versions, and both of them let you remove background easily and very fast. Since it is an online-based tool, you don't have to be concerned about compatibility with any device.
This tool works well with any browsing software and with any device. You'll be up – and – running in moments if you use the website, which is straightforward and free of restrictions. Overall, this tool is one of the best background removal tools that allow background removal in a second.
Features of Cutout.pro
Cutout Pro's goal is to give photographers and image producers a resolution to the age-old problem of modifying the backdrop of their images! Cutting off topics and placing them on translucent backdrops is made possible by this web-based program.
Easy to use
This online-based background removing tool is simple and easy to use. It comes with a very simple interface. You don't have to register to use it, but you can't do bulk image background removing tasks without registering. And it is very easy to remove background with this tool, just upload your targeted image and download the outcome.
Background removal
Cutout makes it very easy and simple to remove background as well as an unwanted objects from the image. It is very easy to remove the background with this tool. All you have to do, is upload the image using the Upload Image button and then select the image and then click open. All right, your file is ready to download.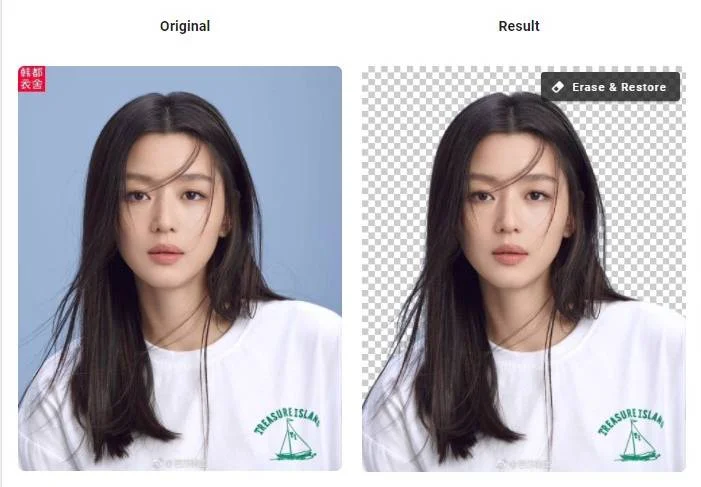 Background changer
You can remove your photo's backdrop, but it's far better to change the background. After you erase the backdrop, you may use this tool to modify the image's background. Four options are available when it comes to modifying the background: customized, photographic, hand-drawn, as well as color. Colors that appear like a sunset were chosen for this edit, and they worked nicely with the picture.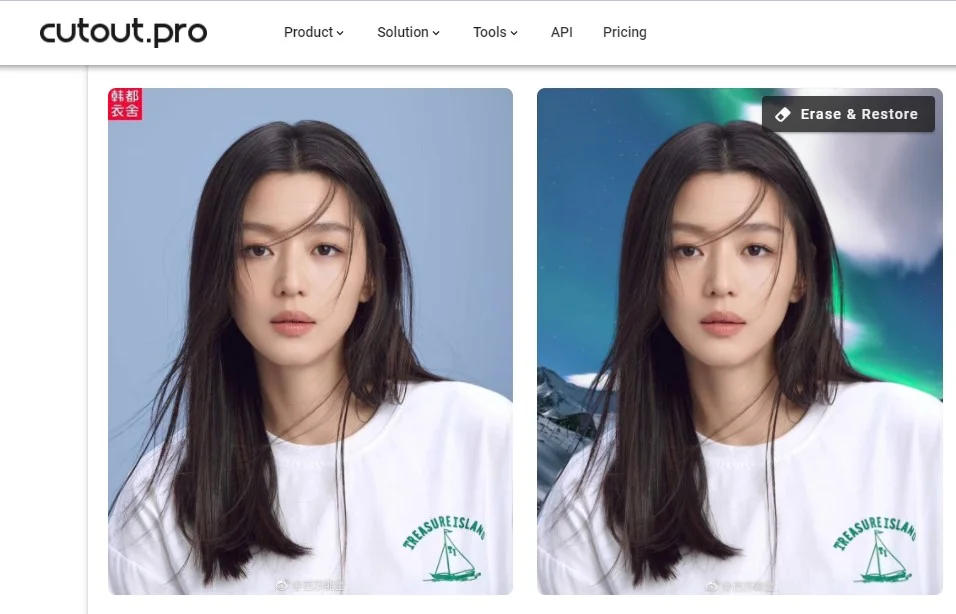 Image Retouching
It's possible to use a picture retouching tool to remove unwanted elements of a picture, then choose the option to "repair." With these, you may exclude certain details if you so choose. To get rid of undesired pedestrians, utility poles, garbage cans, or even automobiles, boats, bridges, and buildings, all you have to do is edit the picture. Taking shots with a messy backdrop is now a thing of the past.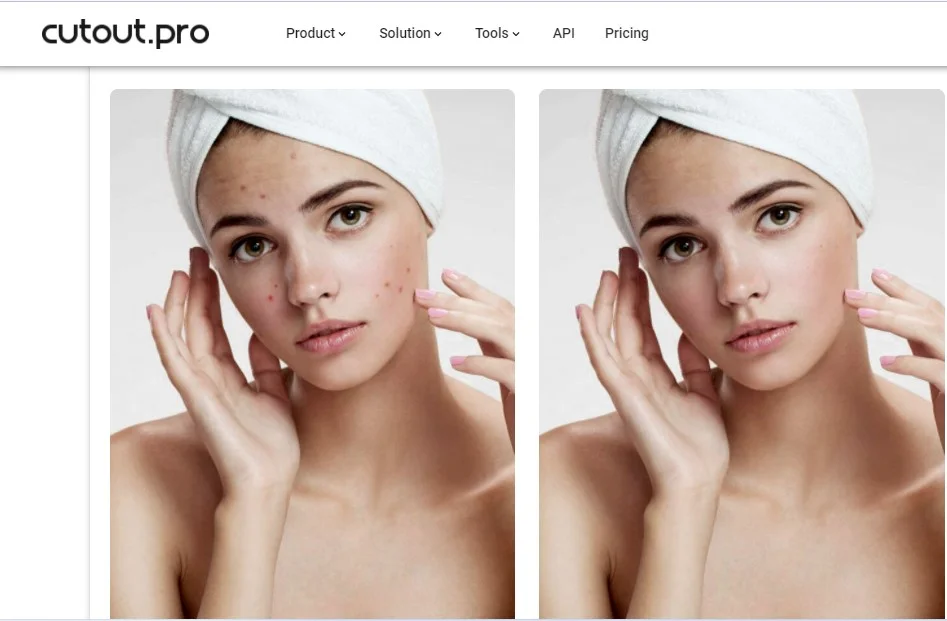 Face cutout
For those who simply want to utilize the head or face from a certain picture of their choosing, Cutout. Pro's face cutting tool will come in handy. Upload a picture or provide a link, as well as the site's tool will take care of everything else. When I entered a URL for my picture, as seen above, the face was automatically chopped out as immediately as I hit the enter key. You may use the delete tool to get rid of any extras, such as the green hat, from your game.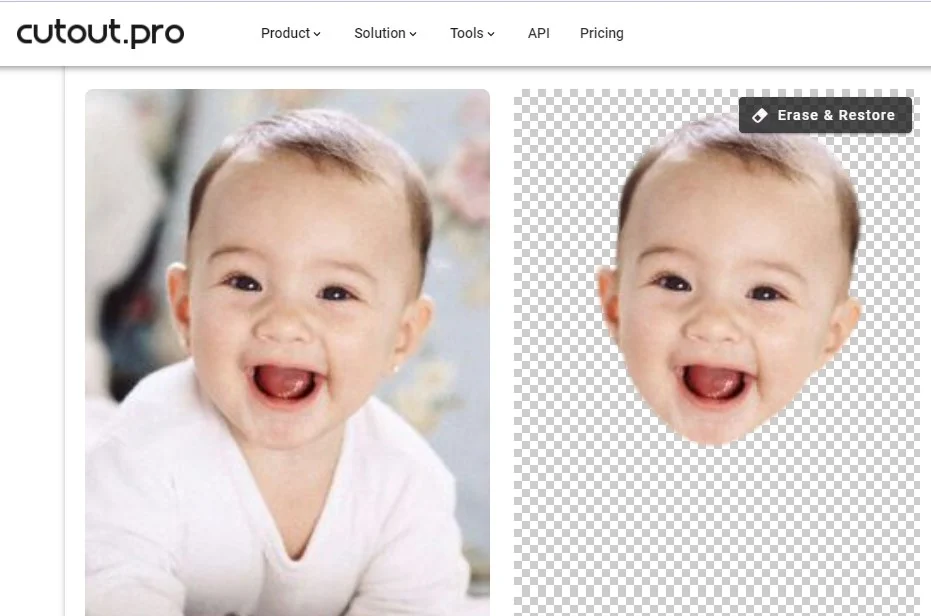 Outfit changer
In the event that you don't have the opportunity to attend a photo studio, you may resort to capturing images at home. Furthermore, you may not be wearing the appropriate attire for your passport picture.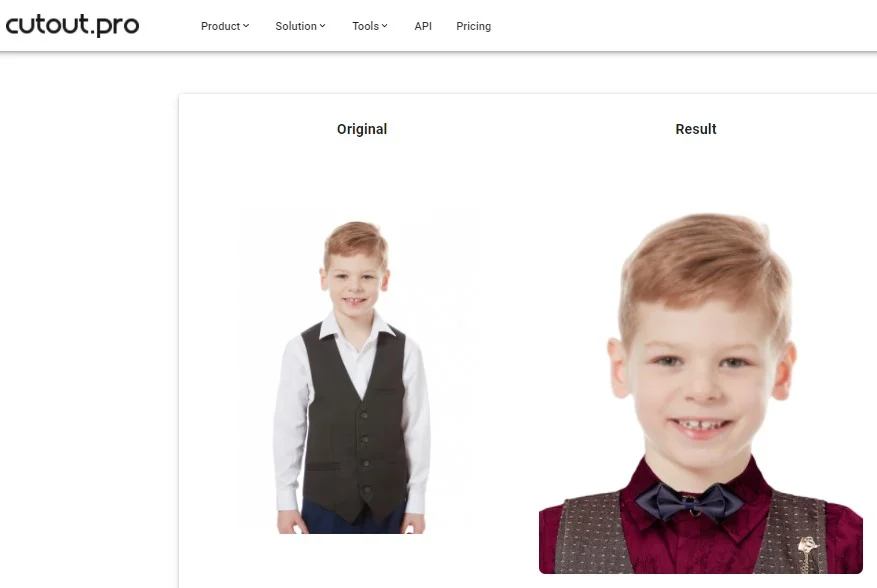 Worry no more since Cutout.pro, with its outfit-altering tool, has the perfect option for you. Many costumes were available for you to pick from, and they were classified into three categories: men's, women's, and children's apparel. I wore a suit for this photograph in order to make it seem more official.
Free Version available
One of the interesting features of this tool is that it has both free and paid versions. The free version also lets you do everything like paid Version. But you can download HD-quality images after removing the background. The free version also lets you not do video editing.
Passport Size Photo
Cutout Pro has to create the perfect online passport/visa/id photo maker features, with proper sizes, e.g. 2''x2'', 4''x6'', etc. You can create your professional passport photo by yourself through online with With Single-Click. Just visit here: Passport Photo Maker
Other Features
Import-Export Option
Built-in Templates
Social Media Integration
Collaborative Editing
Effects and Filters
Enhancement Tools
Import from web
Cutout Plans & Pricing
Their price structure is fascinating, and, to be honest, they continue to be the most cost-effective choice in the vast majority of circumstances. Obtaining high-resolution photos needs credit; therefore, Cutout Pro charges by the credit that is obtained. On the subscription service, a bulk of 40 photographs downloaded costs $5 per month for a total of 40 images downloaded.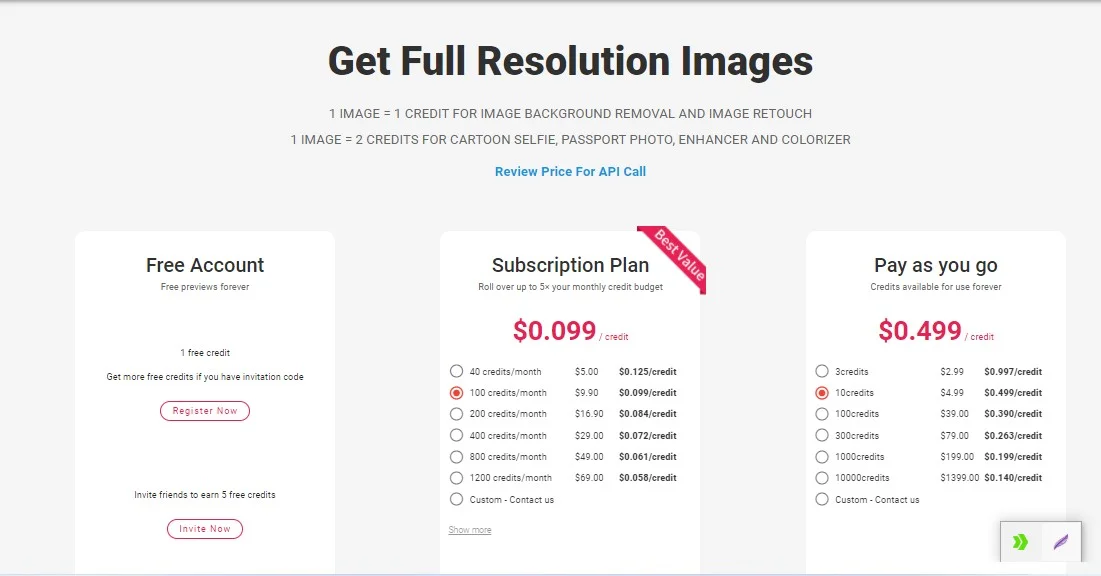 If you really have more photographs, you can anticipate spending at least $69 for each image. If you want to purchase as you go, the cost is a little more upfront; however, the credits are good for an unlimited amount of time. When you subscribe to a service, there is very little unused picture rollover to the following month. At the conclusion of the day, it is not prohibitively costly.
How to Remove background from Cutout.pro?
It is very easy to remove background from an image with Cutout Pro. This tool lets you remove the background from the image is a single click. The outcome is also amazing. Let's see how to remove the background from the image in Cutout.Pro.
Step 01: To remove the background from an image using Cutout tool, first of all, you have to get access to this tool. To get access to the tool, go to any browser of your device and then go to the official website of Cutout.Pro. You can also use their desktop application to remove the image background.
Step 02: After entering the website, you will find a very simple user interface. In the interface, you will find a button named Upload image. Click on this button and select your targeted image in which you want to remove the background.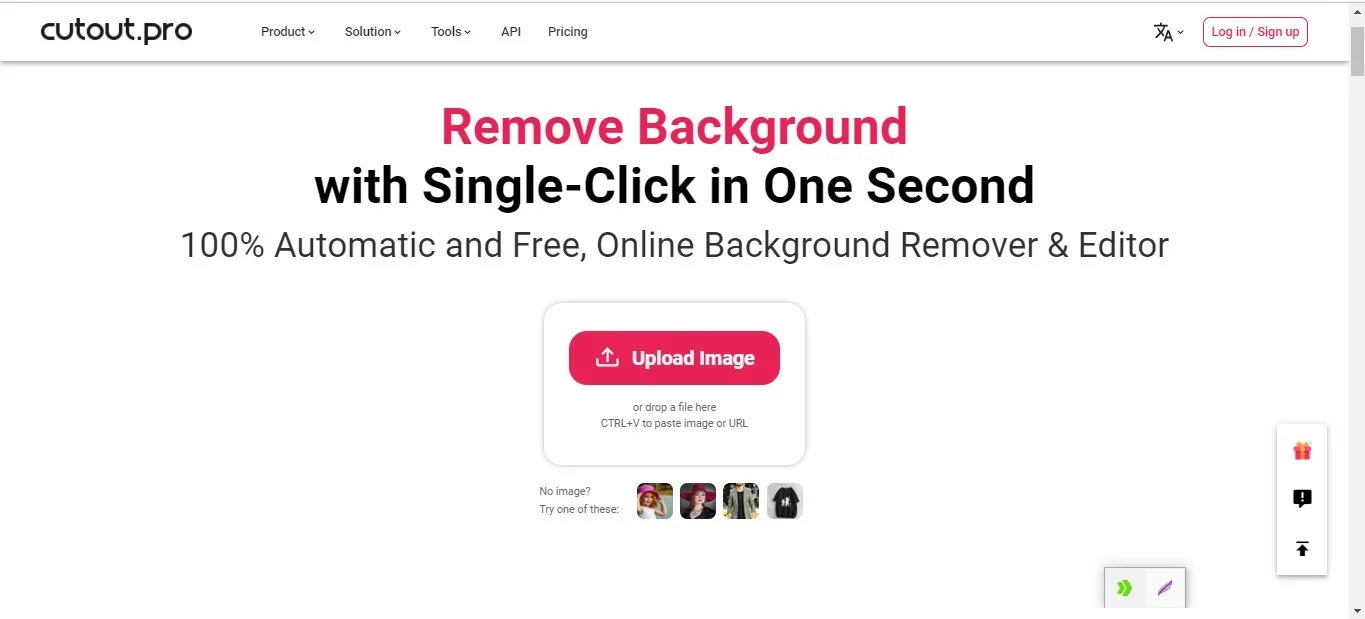 Step 03: After selecting the image, just click on Open.
As soon as you click on Open, the process will start, and you will get an outcome very first.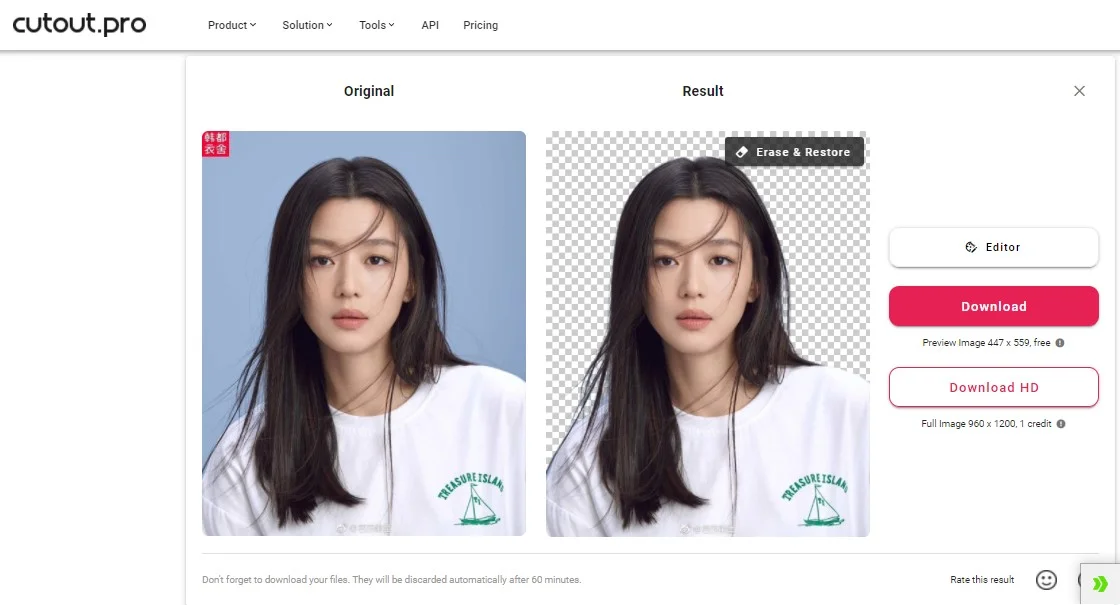 After completing the process, download and save the background removed image to your device.
You can also remove multiple image backgrounds at a time. To do this, click on the Upload image and then select multiple images to remove the background.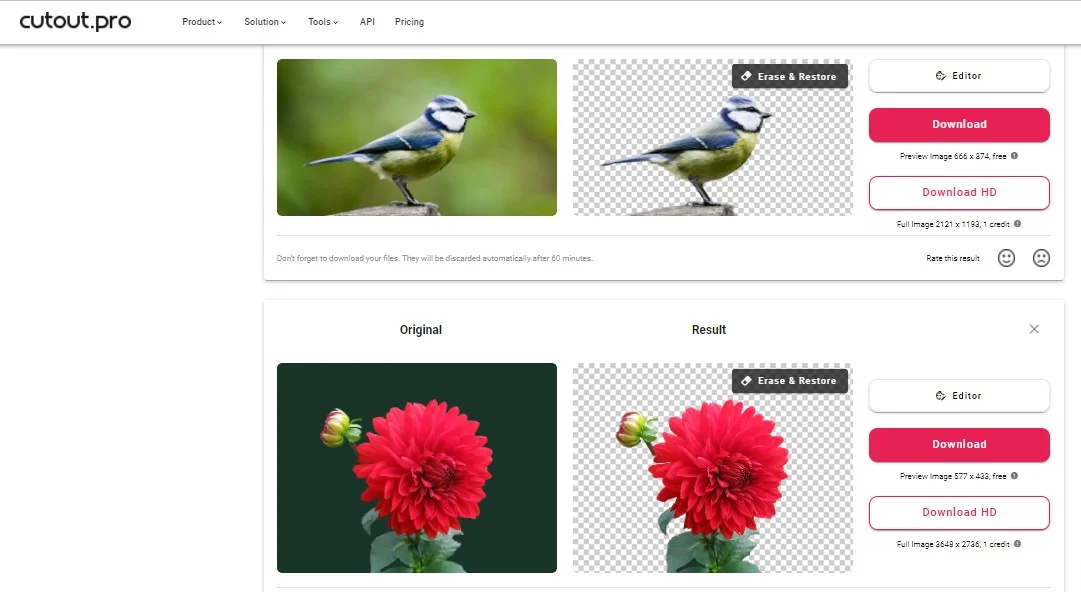 But one thing should mention, if you are willing to batch image background removing, you have to register to the tool, no matter free or paid register you do.
PROS and CONS of Cutout.pro
Pros
Makes it easy to remove the background
Able to bulk/batch processing BG removal
Changing images background is easier with it
Both free, as well as paid version, is available
Cons
No option to add a watermark and text with the image
FAQs
Final Word
So, after this Cutout pro review, we can claim that it is one of the most popular online-based background removing tools. It is easy to use and lets you remove the background is a single click. This tool is available in both free and premium Versions. It has a lot of exclusive features and functionalities.
Cutout Pro is for everyone who wants a fast and straightforward solution, not seeking to struggle with sophisticated applications or worry about PC compatibility. So, if you are seeking the best online-based Pro-type background removing tool, Cutout.Pro is one of the ideal ways to go.