Picture editing is crucial since most photographs require some form of alteration before being made public. PicMonkey is a popular online picture editor because it combines convenience and quality. PicMonkey provides all the features you need to have fun while altering images to share with people. It includes several editing functionalities, making it ideal for beginner photographers as well as aspiring photo editors. So, let's see what this online picture editor has to offer.
What is PicMonkey Photo Editor?
PicMonkey is a wonderful photo editing as well as a graphic-design application for personalizing photos and graphics with a variety of editing tools. PicMonkey is a fantastic picture editor that allows you to share your work with the world. It's a great tool that allows for visual expression, particularly when that expression is meant to be shared.
Asset management, Brand kits, and many collaboration capabilities are all available with PicMonkey. On the other hand, its excellent picture editor steals the show with great features for enhancing your photos. It enables you to enhance your photos like an expert without needing the knowledge and abilities that other photo editing tools need.
Key Features of PicMonkey
Improve the quality of all of your photos! PicMonkey online photo editing tools provide a wide range of editing possibilities, ranging from basic filters to more powerful capabilities. This picture editing tool is equipped with a number of unique and amazing capabilities that set it apart from the competition. Here are a few of them, listed alphabetically.
Highly functional tool
Consumers may have fun creating images with these functional photo editing tools. The straightforward design and user-friendly interface make it easy for beginners to pick up. These capabilities were designed to operate well on smartphones so users may edit while on the go. No more office confinement.
Artist-made templates
PicMonkey is a fantastic picture editor that steals the show with its amazing capabilities for enhancing your photos. It has a lot of fantastic artist-made banners, advertising, logos, postcards, as well as social media post templates. You may also start with a blank canvas. You may also include items like custom artwork, text, stock pictures, and movies. Their libraries are fantastic.
Build-in Storage
The software's built-in storage, dubbed 'Hub,' is popular among users. All of your PicMonkey sketches, drawings, and photographs are saved here, so you'll never lose track of your design progress and can easily go back to your revisions. Hub is also accessible on the PicMonkey smartphone app and on the PC. Without having to switch between devices, you may quickly share your desktop projects on your mobile or smartphone device.
Mobile App
PicMonkey has a mobile version for both Android and iPhone operating systems. Both applications are almost identical to their online counterparts in terms of functionality. You'll receive several more layouts for Facebook and Instagram Stories, as well as Snapchat if you acquire the mobile edition. One thing to note about the smartphone is that, unlike the online version, it is completely free.
Ease of Use
If you're not an experienced graphic designer, you'll want the simplest program possible. You should try out PicMonkey picture editor. This tool comes with a user-friendly interface that is simple to use. After registering, you may start designing. Start by reading the blog, which includes valuable instructions. They cover basic as well as expert picture editing.
PicMonkey Plans & Pricing
Although PicMonkey brings features to free use, it is only free in name only. If you want to use all the features of PicMonkey, you must purchase a plan. Moreover, in the case of the free version, you can't edit the photo and export it. Coming up, PicMonkey has set a very low cost considering the convenience of the customers. PicMonkey comes with 3 several plans; Basic, Pro, and Business plan. The chart below shows how much you have to spend monthly and annually for any of these 3 plans.
| | | |
| --- | --- | --- |
| Plan Name | Monthly Cost | Yearly Cost |
| Basic Plan | $7.99 | $72.00 |
| Pro Plan | $12.99 | $120.00 |
| Business Plan | $23.00 | $228.00 |
PicMonkey provides a seven-day free trial that gives you access to the majority of the features available in the Pro edition. However, these plans don't come with a standard money-back guarantee, although you may ask for a return during the first 14 days. Every plan has the option to be terminated at any moment.
How to edit a photo in PicMonkey?
To start editing a photo in PicMonkey, you have to purchase a plan. Although you can edit photos in PicMonkey without purchasing a plan, you cannot save the file to your device's storage. PicMonkey also offers a 7-day free trial before purchasing any plan offered by them. So, now take a look at how to edit a photo in PicMonkey.
Step 01: Log in and Get access
Go to any browser on your device and then go to the PicMonkey Photo Editor official website. Then sign up for an account in this tool; you can use your Google or Facebook account to sign up instantly. After completing the sign-up process, log in to your account; it will give you access to the photo editing function.
Step 02: Import photo
After getting access to the tool or function, you now have to import the image that you want to edit. To import the image, click on the Edit New Image option and then choose your targeted image and then click Open.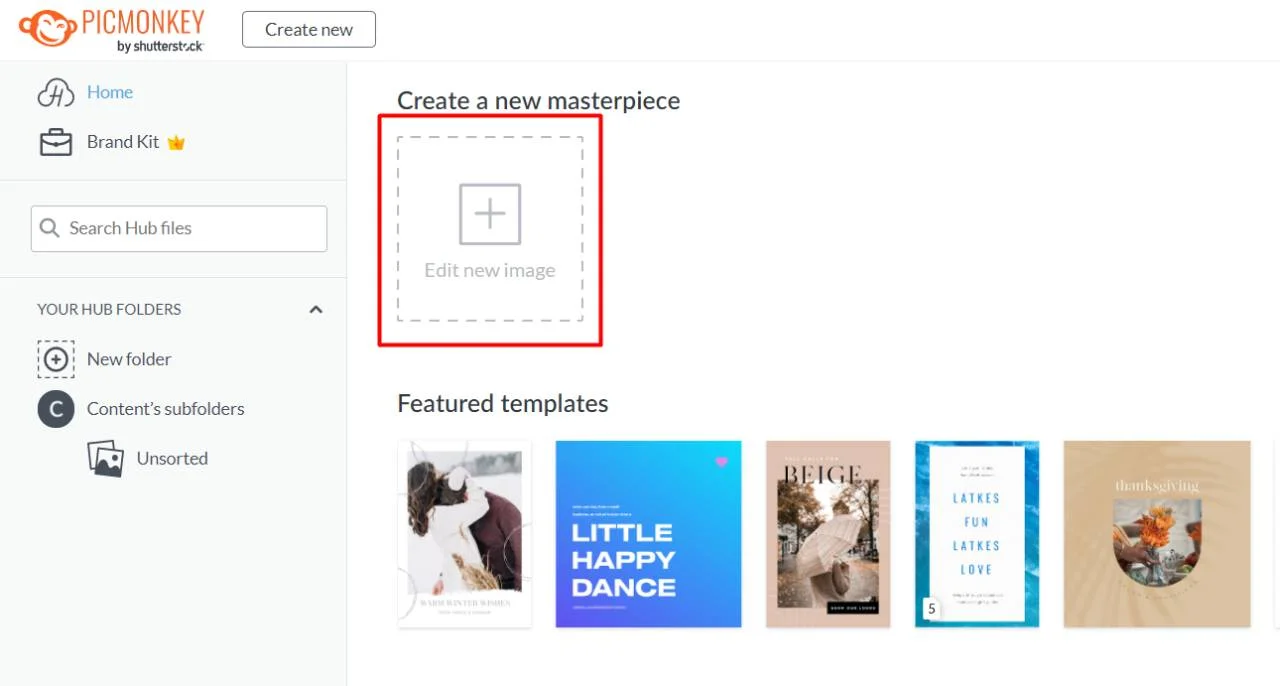 After opening the image to the PicMonkey tool, you will find several editing options. Now, it is time to edit your image.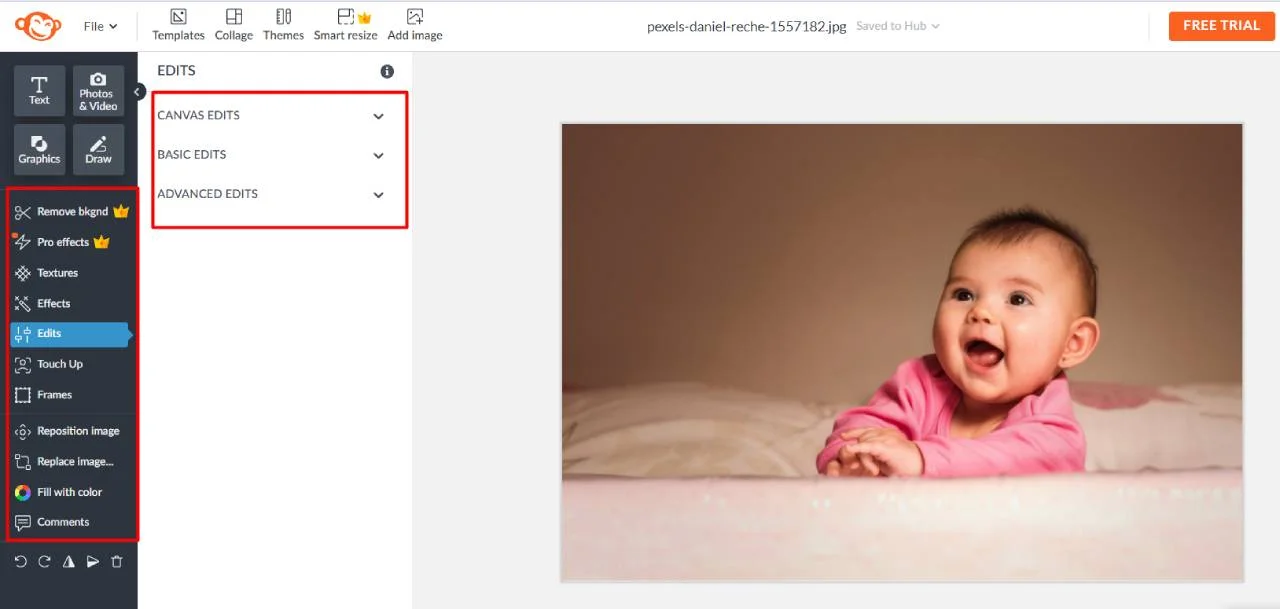 Step 03: Apply Editing Options
 PicMonkey comes with a set of editing functionalities that is able to give your picture a whole new appearance. You can adjust image color tone, add frames, text as well as stickers, apply the effect, and many more with this amazing photo editing tool.
EDITS is one of the most amazing features of this tool. PicMonkey photo editing tool lets you do some basic as well as advanced adjustments like color, exposure, temperature, and many more.
EFFECT is another amazing feature for any kind of basic photo editor. PicMonkey photo editor comes with a set of amazing effects. All of these effects are excellent in quality, and they will add an exclusive quality to the image.
TOUCH UP is an advanced feature of this online-based photo editing tool. There are a lot of editing functionalities under this option. All of these functions work on editing an image's specific area like Face, Eye, Mouth as well as The Rest.
FRAMES add an extra elegant appearance to the image, and it makes the images more amazing. However, this image editing tool comes with a limited Frame option to choose from. The frame is not so excellent in quality; it is just an option, not for high functionality.
At last, you can also add text to the image. Aside from fonts and designs, color, shape, and layout options, you may also apply free text effects. This is odd. The "Text" tool performed effectively and received favorable feedback.
After applying your needed functionality and getting your expected outcome, now you can export the image. But one thing we already mentioned is that you cannot save your edited file without purchasing any plan.
How to make photo collages using PicMonkey?
Photo Collage is a kind of picture that allows you to save a lot of your memories together. Usually, the picture that is made with many images is called a photo collage. We are all probably familiar with Photo Collage. PicMonkey not only works as a photo editor this one works as a photo collage maker. Let's see how to make a collage photo with PicMonkey.
Step 01: Go to the collage maker tool
Open any web browser on your device and go to picmonkey.com/home. Here you will find an option named Create New. Here in this section, you will find an option named COLLAGE. You have to click on this option to make a photo collage.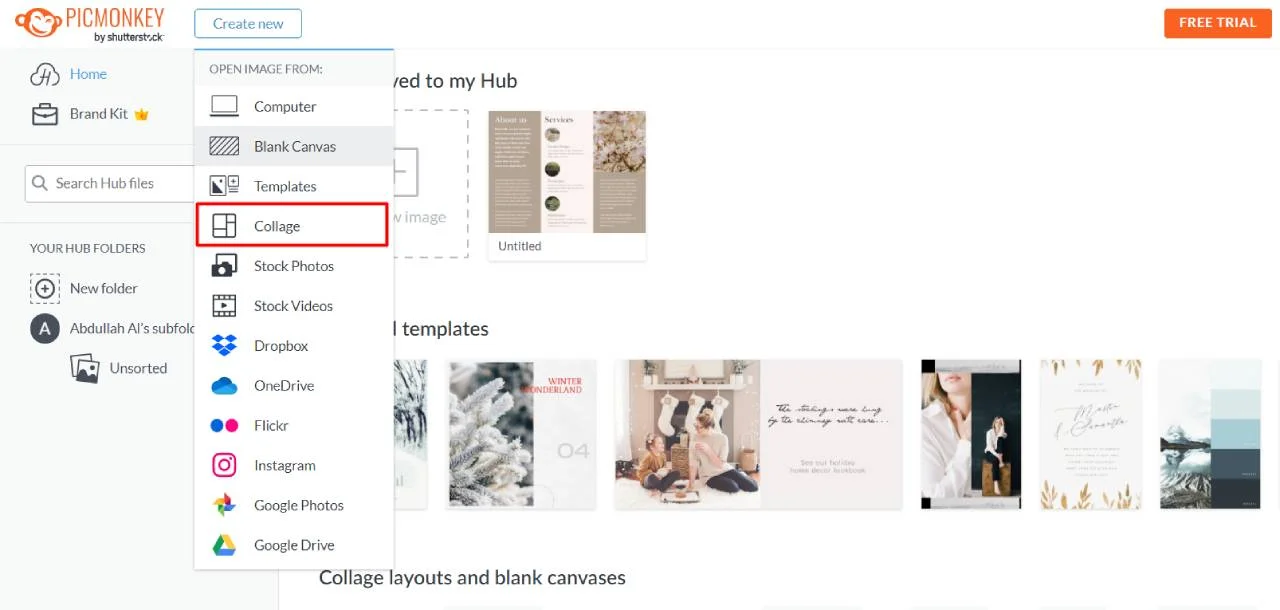 Step 02: Choose Size and Layout
After clicking on collage, now a new window will be open from where you have to choose a Size for collage. Here is several pre-made size option available for medial social post. So, according to the purpose, select the size of your collage photo.
After selecting the size, a new window will open from where you can select the layout design. Here in this tutorial, I used Facebook Group cover size, and I took a layout design that has 6 grids.
Step 03: Import Images
After selecting the size and the layout design of the college, now you need to import images that you wanna use to make a photo collage. To import images, click on Add Image and then select Computer. Now select your targeted images and then click open.
Step 04: Image Placement
It is very easy to place the images on the grid. You can use the Drag and drop method to fill the grid with the images. It also lets you adjust the image by zooming in or even out. You can also apply basic adjustments, add frames, and apply an effect to the images.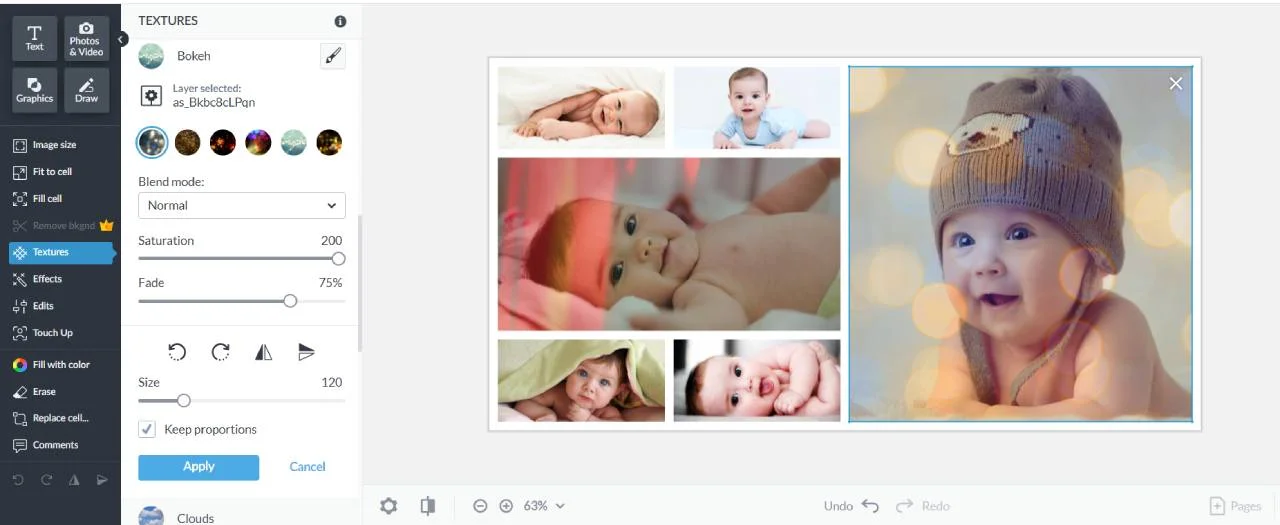 PROS and CONS
Pros
An excellent and amazing photo editing tool
Comes with a lot of editing functionalities
It has a lot of pre-made premium templates
The tool features a user-friendly interface
This tool is ideal for lightweight graphics design
Cons
PicMonkey has a limited option for photo frame
The free version does not allow you to export the file
FAQs
Final Word
If you need a strong and easy-to-use tool to swiftly make your photo more amazing as well as social media postings, you might try PicMonkey. PicMonkey has a broad range of editing options, so you can do practically whatever you want with any photos. PicMonkey's graphic design tools may help you create a poster for the website or even a Facebook cover picture that your friends will love.