Are you more interested in using an online-based photo editor? If your answer is positive, then Photopea online editor will be the best way to go for you. It is an advanced photo editor and the best alternative to Photoshop. It supports many types of formats like PSD, XCF, Sketch, XD and CDR format. Here you can work on both raster and vector images and graphics. In terms of appearance, this online photo editor closely resembles Adobe's proprietary application. One of the best things is that we can use it online and it has both free and premium versions. There is no requirement to install any software to use this image editor, and it is suitable for any browser. You use it for easy pieces of work as well as complicated pieces of work such as web design, illustrations, editing photographs, and converting one format into another format, and many more. To know more about this editing tool, read this Photopea review.
What is Photopea?
Photopea is a free Photoshop alternative that you can use this online photo editor in most popular web browsers such as Chrome, Firefox, Opera, and Microsoft Edge also & many more. You don't need to spend money to get a quality photo editor. In fact, you don't even need to download an app.
It's developed by Ukraine developer Ivan Kuckir. It was released on 14 September 2013 which is available in 40 languages. Photopea is made with written in JavaScript programming language.
Photopea is a kind of online base advanced photo editor that is almost the same as Photoshop. Things that apart Photopea from photoshop are that is you don't have to install an app or register in it; it is all free browser-based photo editor. With this editor, Photos may be readily retouched to make them more attractive by editing and adding special effects.
Photopea is easy to use and user-friendly. The interface of both photoshop and Photopea are nearly similar. The interface of this editing solution enables users to access a collection of tools that have been organized in a logical manner. Users have the option of starting a new project or continuing work on an existing picture file that is already on their computer. With its straightforward and distinctive layout, Photopea is both simple to comprehend and simple to use.
The Photopea is even known as "Free Photoshop" for its program-like interface and common tools.
Key Features of Photopea
Photopea application supports layers, layer mask, vector mask, raster mask, clipping mask, smart object, rasterize layer style, layer style, selections, and many more. Photopea photo editor comes with several exclusive features like other professional photo editing tools. Here is the list of its several exclusive features
User-friendly interface
It comes with a user-friendly, especially beginner-friendly interface that is very easy to use. The interface is almost the same as Adobe Photoshop software. So, if you have a minimal idea about photoshop, you will be able to use this editor easily.
Free to use
Photopea will never force you to purchase. Photopea does not need an account to be created, and there are no additional costs associated with using the service. There are both free, and premium versions are available of this tool. While the premium version will offer more features, the free version is also good enough for beginners. Editors using machines other than their usual configuration will find Photopea to be an extremely useful tool.
Multiple formats Downloadable
One of the most useful features of this online photo editor is that you can save the image in several formats after editing the image. You get the option of saving the file as a PSD, JPG, PNG, PDF, SVG, or even as a GIF file if you so like. This functionality allows you to easily edit any image with any file and on any device.
Extensive editing options
This online photo editor has a lot of editing options. All the options are almost the same with photoshop, and the functionality is also the same as well. Photopea provides a somewhat comprehensive set of editing features, including the patch, healing brush, as well as point healing tools. Layering, paths, channels, layer styles, layer masks, selects, filters, smart objects, and raster graphics are all included in Photopea. It offers everything that you will need to edit an image professionally.
Customizable Test Style
With Photopea, you have a choice between two different styles of style settings. In the first place, there's Character Style, which changes from match to match. The next is a style called Paragraph Format, which is used throughout the paragraph.
Other Features
Compatible with any Device: It is supported by all devices. Operating systems such as Windows, iPad, Mac, iPhone, as well as Android all are compatible with this tool.
Save Disk Space: You may access and utilize the Photopea online program directly from your computer browser without having to download anything. It reduces the amount of space used up by your computer's hard drive.
Pre-build Templates: Photopea comes with a collection of pre-made templates that may be used to quickly create a design.
Social Media Integration: The ability to integrate the program with social media platforms for increased reach as well as coverage is provided.
Import from web: Ability to import a picture into a project or canvases by referencing a picture URL
Remove objects: Simply brush the picture surface with the brush tool to effectively remove undesirable elements from your photographs.
Effects and Filters: With an extensive range of tools and picture effects, you can instantly modify the tone of your photographs.
How to use Photopea?
Photopea is a kind of online-based photo editor, so you don't have to install any kind of software. Moreover, it is a free photo editor, so there is no need to create an account. You can use this advanced photo editor with any kind of browsing software. Here is the step-by-step procedure on How to use Photopea below:
Step 1: Access the Dashboard
This editor is compatible with any browser, so go to the browser you have and then enter the Official Website of Photopea.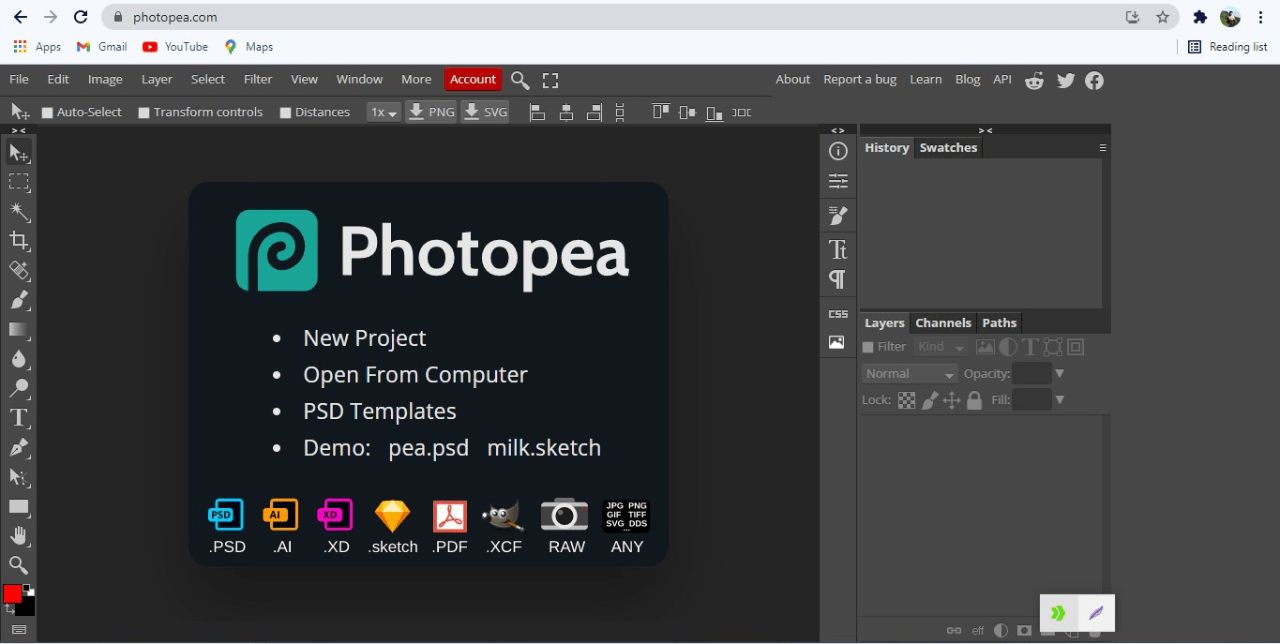 Step 2: Start New Project
If you want to create a new project, just click the New Project. You have to name the file & width, height, and background as well as there are a lot of template sizes. And also you will get options to select the file size type just like the Facebook page cover, Instagram Story, Twitter header, etc once all of this process gets done, click on the Create button and a window will open on the left side of this window there are multiple tools for editing.
Step 3: Import Image
You can import your target image here with 2 several methods to edit. You can import images by uploading them from your pc or by the Drug and Drop system. It is suitable with the PSD file format, as well as with JPEG, PNG, as well as other image file types.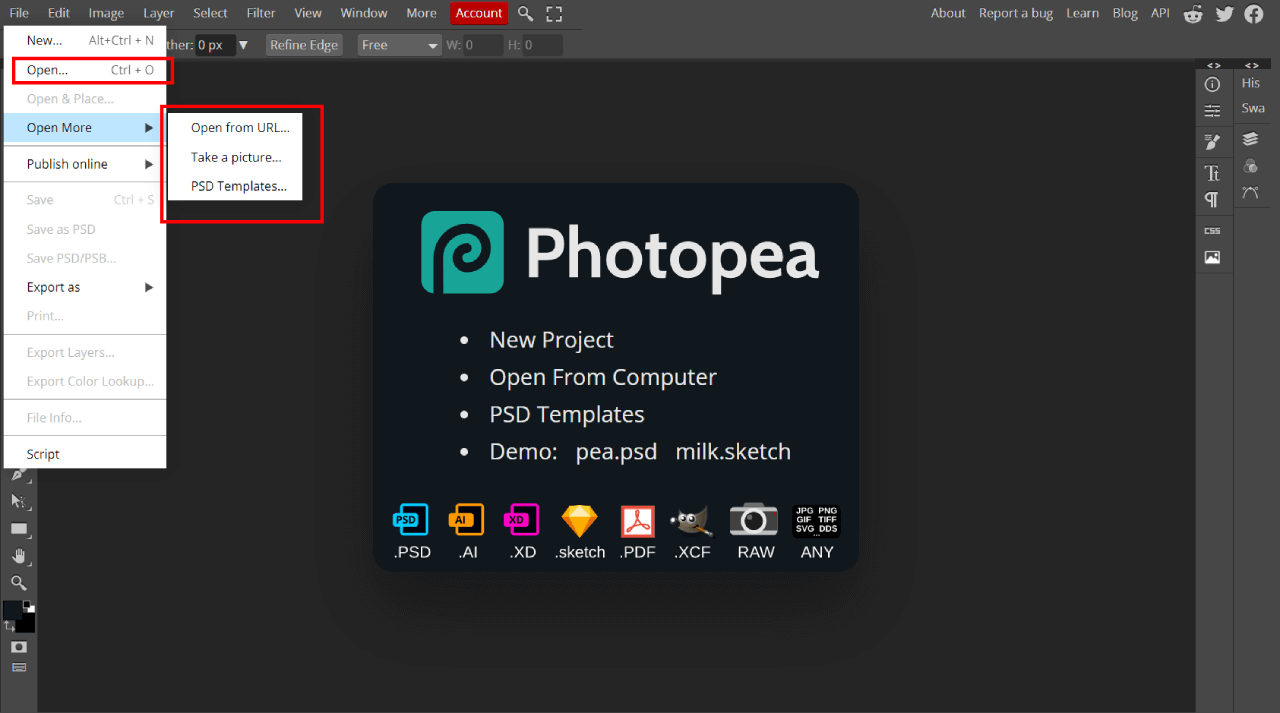 Step 4: Edit the Image
Depending on your needs, you may use one or both of the editing tools located at the top or on the left side; the majority of the functions are comparable to those found in Photoshop Software.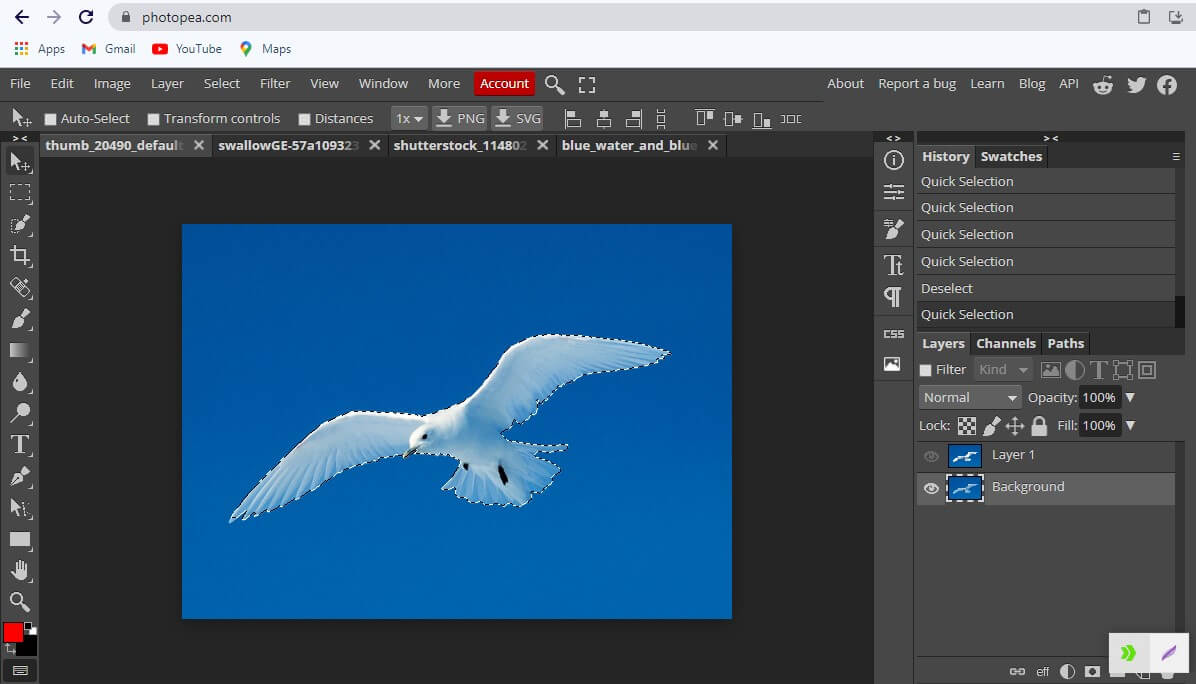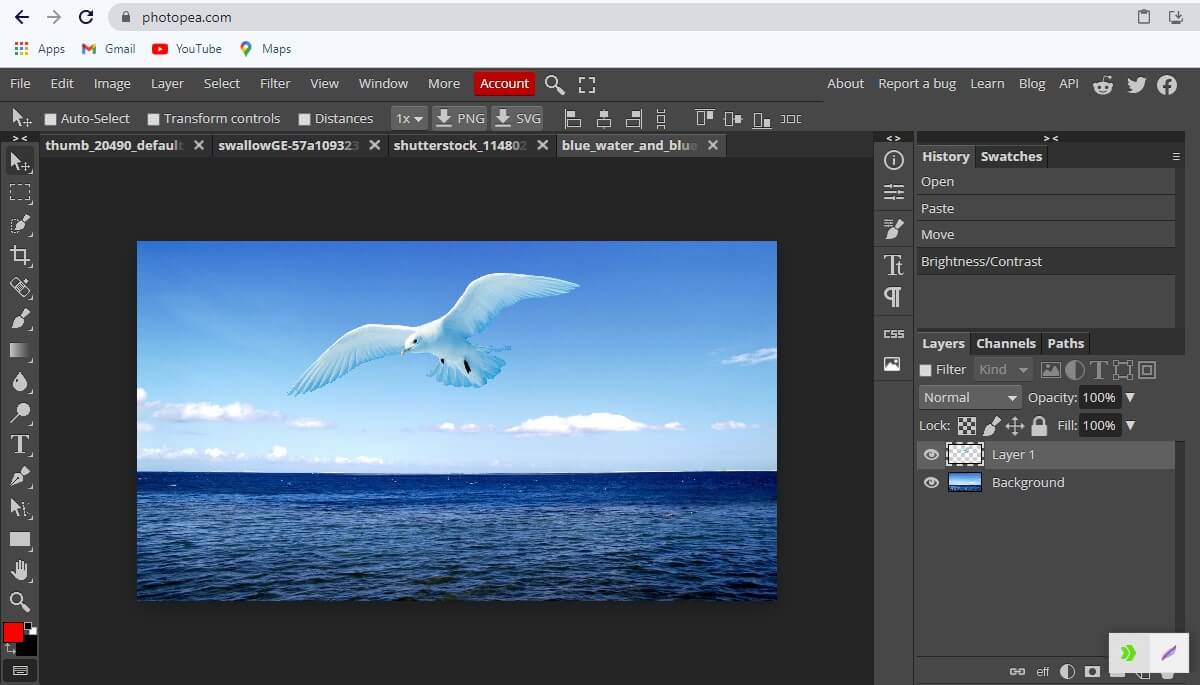 Step 5: Export the Image
Export the image after completing the image. You can save the file as a PSD, JPG, PNG, PDF, SVG, or even as a GIF file. If you have minimal ideas in using Photoshop, it will be much easier for you to use this online photo editor.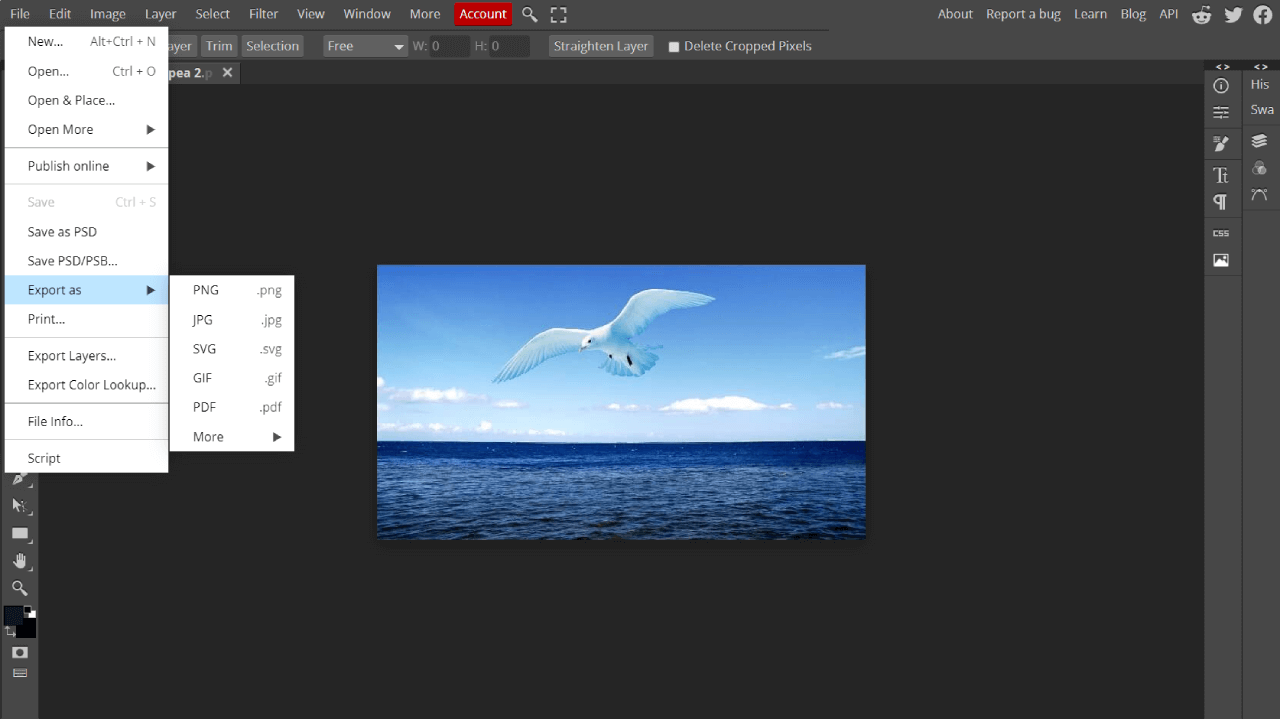 Check tutorial: How to make a youtube thumbnail using Photopea?
Photopea Download and Install on PC
Photopea is an online photo editor web-based platform. Their no official version for operating systems like Windows, Mac, Linux, Android, iOS devices. So, you have no need to download any installation file and install it. You can use Photopea from any web browser. Just go to your browser, and type www.photopea.com and press Enter button and enjoy it!
Do you want to use Photopea on your Desktop PC?
You can use this online photo editor on your Windows/Mac desktop or laptop through 2 methods.
How to create Photopea shortcut app on desktop:
Open Chrome browser and go to www.photopea.com.
Now click three dot icon at the top right.
Then click on More Tools >> Create shortcut

.

Enter a name for the shortcut and click Create.
Install Photopea PWA (Progressive Web App)
On your Chrome browser and go to www.photopea.com.
Now you will find an install icon at the top right of the address bar.
Click on it and follow the onscreen instructions.
Photopea Plan & Pricing
Photopea has two types of versions for users: Free and Premium.
The free version contains advertising that helps support its development, but the ads aren't intrusive. (the ads are on the right side of the home interface). If you feel discomfort with ads, so you can move premium account for $9/mo to hide ads and support Photopea's developer. On the other hand, the paid version has no advertisements and has other premium features included.
To check paid prices and manage your account click the Account button at the top. There you can order the Premium account or see, how many days of Premium you have left. Logging in is necessary for having Premium accounts. The basic option is a Premium account for a single user.
Account Types
| | Free | Premium |
| --- | --- | --- |
| All Features | Yes | Yes |
| No Ads | Yes | No |
| Steps in history | No | Yes (2x more steps in history) |
GP Premium
| | 30 days | 90 days | 365 days |
| --- | --- | --- | --- |
| Single user | Buy $ 9 | Buy $ 10 | Buy $ 40 |
| Team of 5 | Buy $ 15 | Buy $ 30 | Buy $ 120 |
| Team of 20 | Buy $ 50 | Buy $ 100 | Buy $ 400 |
Distributors Account
| | 30 days | 90 days | 365 days |
| --- | --- | --- | --- |
| 1000 views /per month | Buy $ 40 | Buy $ 80 | Buy $ 300 |
| 5000 views/per month | Buy $ 100 | Buy $ 200 | Buy $ 700 |
| 20000 views/per month | Buy $ 200 | Buy $ 400 | Buy $ 1400 |
Photopea vs Photoshop
Photopea is one of the best alternatives to photoshop, and its interface is almost the same as photoshop. The main difference is it is an online-based editor, and you don't have to install any apps. But to use or access photoshop, you have to install the software. Although the latest version of Photoshop does not work on low-configured PCs, Photopea online image editor can be used on any PC.

On the other hand, if you have to pay to use Adobe Photoshop, you don't have to pay for this online-based photo editor as there are free and premium 2 versions available. However, one problem is that you can use Photoshop offline, but you cannot use it offline. Photopea is an excellent choice for modest tasks since it includes instructions and does not take up as much disk space as programs such as Photoshop. Considering all the aspects, it can be a fair alternative for Photoshop.
Pros and Cons of Photopea
Pros
It has several handy features like photoshop
No need to create an account or register to use
There is no need to install any software or plugin
Compatible with any browser and windows version
Cons
It will take time to get comfortable with the interface
Working with huge files may cause performance concerns
FAQs
Final Word
Photopea is a feature-rich online app for editing photos which is a great free image editor that works well for modest projects. Its functionality is almost the same as Photoshop that makes it the best alternative to photoshop. You don't have to download anything to edit photographs, improve them, or utilize vector and raster tools. For those who are prosumers or casual editors, Photopea will suit the majority of their needs.