Fotor photo editor: Best Photo Editor and Collage Maker
Are you looking for an online-based basic and multifunctional photo editing tool? Online photo editing, as well as collage makers, are ideal for amateur photographers and may also be utilized for school assignments. Fotor will be the best option for an amateur to an intermediate photo editor. It is one of the best online-based photo editing and collage maker tools. It includes several excellent and exclusive features and functionalities that make it one of the best choices.
What is Fotor Photo Editor?
Do you know what is Fotor, or do you hear about Fotor before? If your answer is negative, you probably know there are several online-based tools to edit images. Fotor is one of the best and most popular online-based photo editing tools. Although it is a free-to-use tool, it has two premium plans that allow you to access more editing features.
The packages will depend, though, on how much function you require. It is not only an online-based tool; it also has applications for smartphones, windows as well as Mac. Fotor is crafted with a lot of editing options that will give your image an excellent outlook. And finally, this tool comes with a user-friendly and straightforward interface that makes it easy to use.
Features of Fotor
As an excellent and basic photo editing tool, Fotor comes with a set of exclusive features. But one thing should mention that you can't access all of its features with the free plan. To access all of the Fotor features, you have to go to the Pro plan. Here are some of the Fotor exclusive features discussed below:
Easy to Use
Fotor is one of the most popular and beginner-friendly photo editing tools. Its simple and user-friendly interface makes it easy to use for a beginner. So, you can edit any image with this tool quickly, and you can access all the features easily. You don't need to have previous experience to edit images in this environment.
3 Editing Function
Fotor is a multifunctional online-based editing tool. It has several editing functionalities; Edit Images, Make Collage, and Design. You can edit your image with the Editing option to give it a whole new look. The Make a Collage option let you make collage photos with several design options. And using the Create a Design option, you can design basic graphic design.
Several Editing Options
Although it is a basic photo editing tool, it includes a lot of editing options that will give your photo a great appearance. Removing background, adding filter and effect, enhancing sharpness, cloning image, and adding frame are all possible with this tool. But you have to purchase the pro plan to access all editing options.
Set of Premium Templates
One of the most significant features of the Fotor photo editor is that it comes with a set of premium pre-built templates. These templates will make your graphics designing task a breeze. You can now design any poster, social media post as well as marketing thing easily with these pre-made templates. Fotor's design creator includes several creative tools and an extensive library of free, prepared design templates.
1-Tap Enhance
Fotor has a very fantastic feature that you should check out. It helps do a quick 'enhancement' of your photographs. Consider this to be your "fast processing" mode of operation. It is possible that the outcomes will not always be flawless. You may or may not desire to take advantage of this option. Always remember that you have the option to rearrange stuff and make some little alterations.
Fotor Mobile App
Fotos' mobile application is an adaptation of the company's internet and desktop platforms. Fotor, like every third-party picture editing tool, has a plethora of creative choices for you to explore. It contains fundamental editing features, such as sharpness, contrast, brightness, hardness, shadow, as well as highlight, among others.
The Fotor Cloud
The Fotor Cloud serves as a storage facility for your picture files. As soon as you enter your account, you may view your photographs from any location. By selecting Cloud, you will be able to view your photographs immediately under the Cloud service of Fotor.
Another benefit of Fotor Clouds seems to be that you can use it to create a collage of any photographs by uploading them to it. As a bonus, the Collage option provides you with several more editing choices, such as the ability to add text and other decorations to your images.
Fotor Plans & Pricing
Fotor photo editor is one of the most effective and also popular photo editing tools. This tool has both free as well as premium versions. Its premium version is in 2 categories; Fotor Pro and Fotor Pro+. We already mentioned that this tool has a lot of editing features, and to access all the features, you have to upgrade your plan from free to Pro or Pro+.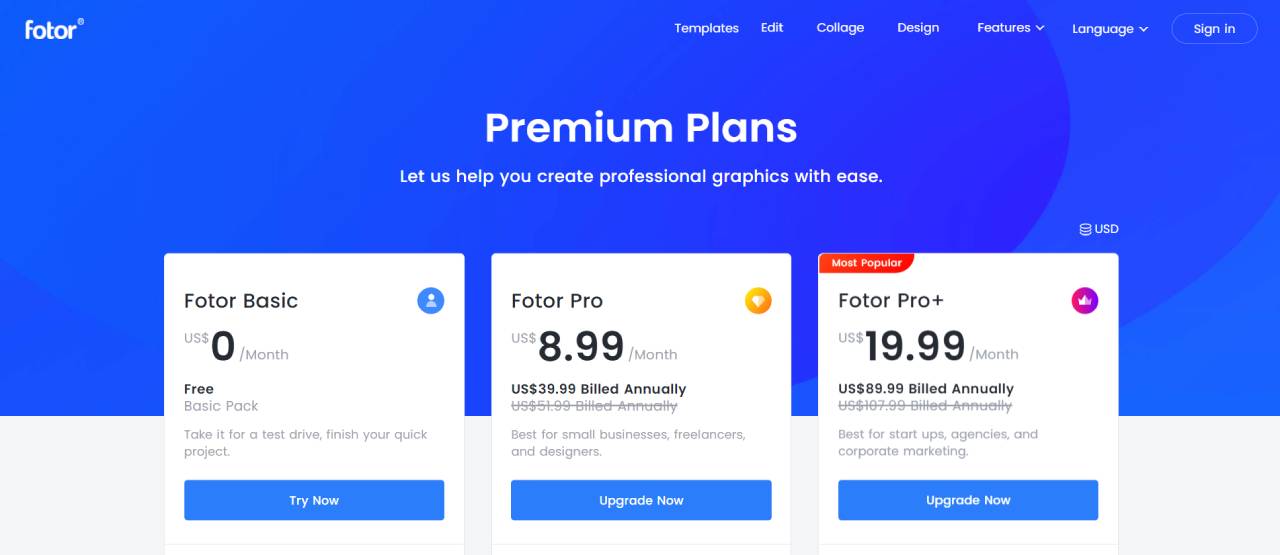 Fortunately, Fotor doesn't cost such an amount that will break your bank. To purchase the Fotor Pro plan, you have to pay 8.99 dollars for a month. If you are willing to purchase Pro Plan for a whole year, you have to pay only 39.99 dollars. If you want to go for the Pro+ plan, then you have to pay 19.99 dollars for a month. If you are willing to purchase the Pro+ plan for a whole year, you have to pay 89.99 dollars.
How to edit a photo in Fotor photo editor?
It is straightforward to edit a photo in Fotor since it features a simple and user-friendly interface. Go to your browse, access the tool, import photos, and start your editing. This lets you access all the editing functionalities easily. To edit an image in Fotor, follow this step-by-step guide below.
Step 01: Get access the tool
To start editing images in Fotor, go to any browser on your device and access the Fotor Photo Editing Tool. After entering Fotor official website, you will get a straightforward interface.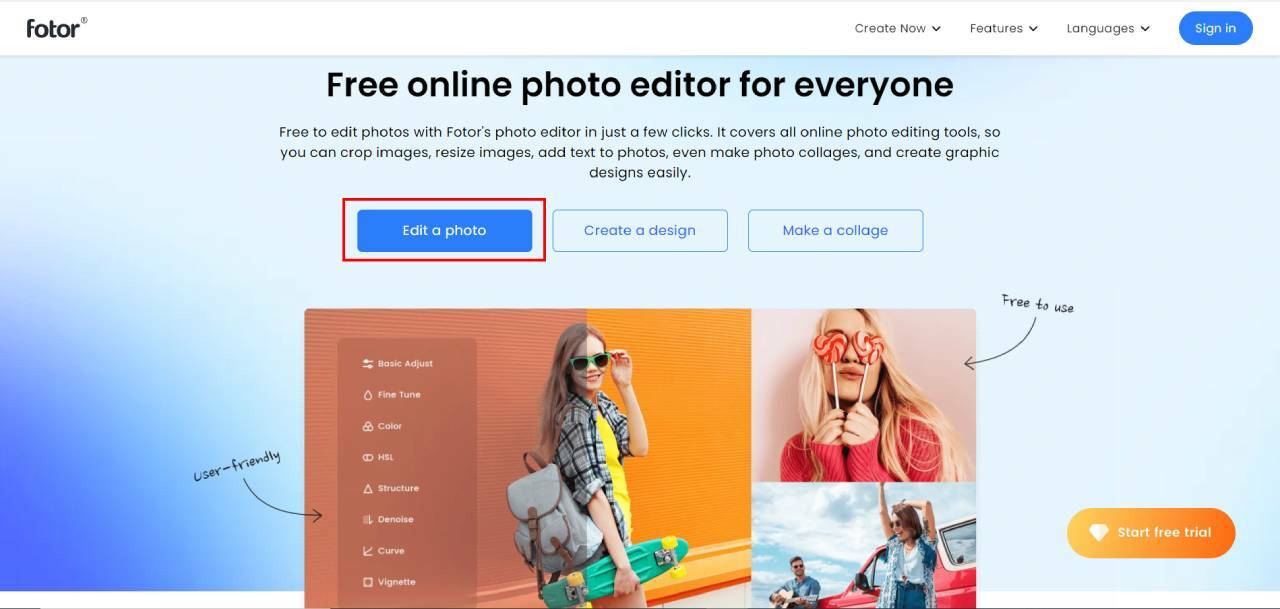 Here you will find three options; Edit a Photo, Create a Design and Make a Collage. Click on the Edit a Photo Option.
Step 02: Import Image
After clicking Edit a Photo, you have to import your targeted image to the newly opened window. Click on the Open Image option or import your targeted image with the drag and drop method.
After importing the image, now it is time to apply several editing functionalities.
Step 03: Adjust the Image
Now it is time to adjust several things in the image. Fotor allows you to crop, resize, rotate, and make some basic adjustments like color, temperature, brightness, and many more. With the Pro or Pro+ plan, you can also remove background or apply 1-tap Enhancement.
Here I applied color adjustment, Vignette, Fine-tune, as well as some basic adjustments like brightness, Contras, Saturation, and sharpness.
Step 04: Apply Beauty Options
One of the most outstanding features of this online-based photo editing tool is that it let you apply several beauty functions to the image. It includes Blemish Fix, Smoothing, Eye shadow, Blush, Red-Eye removal, and many more options. But you have to purchase a pro plan to access some of these features.
One of the most exclusive functions in all of this is Blemish Fix. Using this function will allow you to remove any dark spot and pimple on your face or anywhere on your screen. You can also make shadows under the eye using the Eye shadow function. Apply all functions one by one and see the difference.
Step 05: Apply Effect and Filter
Applying an effect or filter to the image is one of the best ways to enhance the image's appearance. Effect and filter are a kind of pre-made color combination that can enhance the quality of the image. Fotor has a lot of effects and filters; however, most of the effect is only available for the pro plan.
But it has many filters that can be used in the free plan. Here in this image, I applied the Classic>Red wash filter. It will be better if you apply all filters one by one to define which one matches well with your image.
Step 06: Add Frame to the Image
Add frame to the photo is another way to make the photo more amazing. Fotor has a lot of frame collection to apply to the photo. Unfortunately, most of the frame is not available for the free version. You have to purchase a pro plan to add more premium frames to the image.
You can also add several elements like shape or emoji, and Fotor also allows you to add text to the image. So, after applying all the functionalities you want and getting your expected outcome, save the photo to your device. Fotor let you save the file in 2 moods; JPG and PNG.
How to make a collage photo using Fotor Collage Maker?
Fotor collage maker lets you make collage photos easily. It also has many pre-built collage templates that will make your collage photo-making task easier. To make a collage photo in Fotor, follow this step-by-step guide below.
Step 01: Choose the Layout
Go to any browser and then go to the and then go to fotor.com/collage. After access, the tool chooses the layout. Here are a lot of free layouts available to make collage photos in Fotor Collage Maker. So, first of all, make sure how many photos you want to use to make a collage photo. According to the number of photos, choose a layout.
Step 02: Import Images
After selecting the layout, import your targeted images. To import images, click on +Import and then select your targeted image and then click on Open.
Step 04: Fill the Grid with Images
After importing, the image, now fill all the grids of the layout with images. You can also adjust the images with grid size. Double click on the image and the Zoom Out or Zoom in to adjust the image.
Step 05: Adjust The collage
After completing the 4th step, now it is time to make several adjustments. Change border width, Corner Rounding, and Background. And while you will get your expected outcome, save to picture to your device.
Note: You can also use several pre-made collage templates to make collage photos. To use a pre-made template, go to the Artistic, choose a template and then import and fill the image.
How to download and install Fotor for Windows 10 PC?
One of the most amazing things about Fotor is that it is not only a web-based tool; it also has Mobile, Windows, and Mac applications. So, are you willing to install the Fotor Windows application on your Windows 10 PC or Laptop? If you don't know how to Download and Install Fotor for Windows 10 PC or Laptop, follow this step-by-step guide.
Step 01: Open any browser on your PC and then go to the Fotor Download link for PC. After accessing this link, you will find an Option named Free download for Windows.
You can also access this link from Home>More>Windows Icon. Now click on the Option "Free Download for Windows" and wait for completing the download.
Step 02: After completing the download, go to the file and then double-click on the file. After double click the file, a new window will open where the terms and of service are listed. After reading this term, make sure you accept this by marking the small box.
Step 03: After confirming that you have accepted their terms, click Next> Next. Now the installation process will begin. Wait until the installation process is complete. The process will take up to 1 minute to complete.
So, after the installation process is complete, click on the Finish Option. That's it; now, the application is ready for use. Go to the application and then follow the following instructions.
Step 04: You have to create an account to work with Fotor Windows Application. So, create an account and then start working with Fotor Desktop.
PROS and CONS of Fotor
Pros
Amazing editing tool as well as easy to use
This tool has a lot of smart effects and filters
This photo editing tool has an easy collage maker
It has a lot of pre-built premium quality templates
Cons
Most of the functionalities are not available in the free version
FAQs
Final Word
Fotor is unquestionably a fantastic online picture editor. It's not a full-fledged Photoshop alternative, but it's incredibly user-friendly and free. Undoubtedly, the interface is simple to use, as well as the overall appearance and feel are excellent. Fotor's one-click effects are the simplest method to make your images seem their best if you have a collection of pictures that really need a little additional shine.