Edit and Merge Images with Photo Joiner
Photography is an art. Many people debate whether photography is a legitimate art form. Art is a language that doesn't require words. Images are a perfect portrayal of that statement.
However, showcasing photography as art requires time and effort. There's a process to it. Raw, unedited photos may not convey the message you want to deliver. That's why you need Photo Joiner by your side.
You can use a mix of mediums to transform your images into art. This is where separate photographs are combined to share a story. Then, create a collage that captures your audience instantaneously!
Photo Joiner is more than just a bunch of photographers combined. It's an art form. The platform highlights your creative way of thinking. So, take a look at this guide to know every nitty-gritty detail about this!
What is Photo Joiner?
Photo Joiner is an online platform where you can merge your images into a single story. Create the most artistic fusions here. You can use your captures to create beautiful collages, hilarious memes, or attractive Facebook covers.
This specific type of art form involves two or more images. You can use numerous photos and merge them into a dynamic scene. By overlapping these images, you can make zesty or mighty works of art.
This type of photography is commonly found in art galleries or street art. It became popular in the early 1980s when "joiners" came around. Polaroid photographs started these grid-like compositions.
The abstract images caught media attention from the get-go. The ethereal quality they portrayed brought the pictures to life. Photo Joiner aims to get the same quality to a virtual platform. So it's more than just a visual representation of images.
Features of Photo Joiner
Photo Joiner has a straightforward interface. All you have to do is select the photos and merge them however you want. You can stitch them horizontally, vertically, or even in grids. There are several adjustment features you can use too.
You can rotate, flip, and crop the images as well. In addition, there's a resizing feature that helps you diminish the file size. Once all the edits are complete, save the image in your desired format. You can also directly share it on Facebook.
You can also set margins between the joined images in Photo Joiner. Then you can fill those lines with colors of your choice. But, most importantly, to make it look structured, you can choose to readjust all images to the same size.
There are four key features of Photo Joiner. They are described as follows.
1. Stitch
Photo Joiner's editor helps you quickly stitch or join your photos. You can do it vertically or horizontally. Then, add a professional touch to your images by adjusting the border size and color.
You can find pre-built layouts in the Photo Joiner interface. Select a format you like and just drag and drop your chosen photos. Of course, you can do this manually too.
2. Collage
A photo collage can help you share a great story. It essentially combines all the images of a day into one. Then, people look at it and instantly understand the tale it wants to share.
With Photo Joiner, you can create beautiful collages with the Collage Maker. All you have to do is select a template and your chosen images. You will find a magical appearance in no time.
3. Meme
Memes can make or break a page. However, memes need to be created tactfully too. If you want to create a hilarious meme to share with your friends, Photo Joiner is the one for you.
Photo Joiner's online meme generator allows you to add text to images with ease. You can also decorate the picture. The combination of the two makes a stellar meme.
The online editor is super easy to use too. The platform has a quick and easy interface. You can also work on existing meme templates.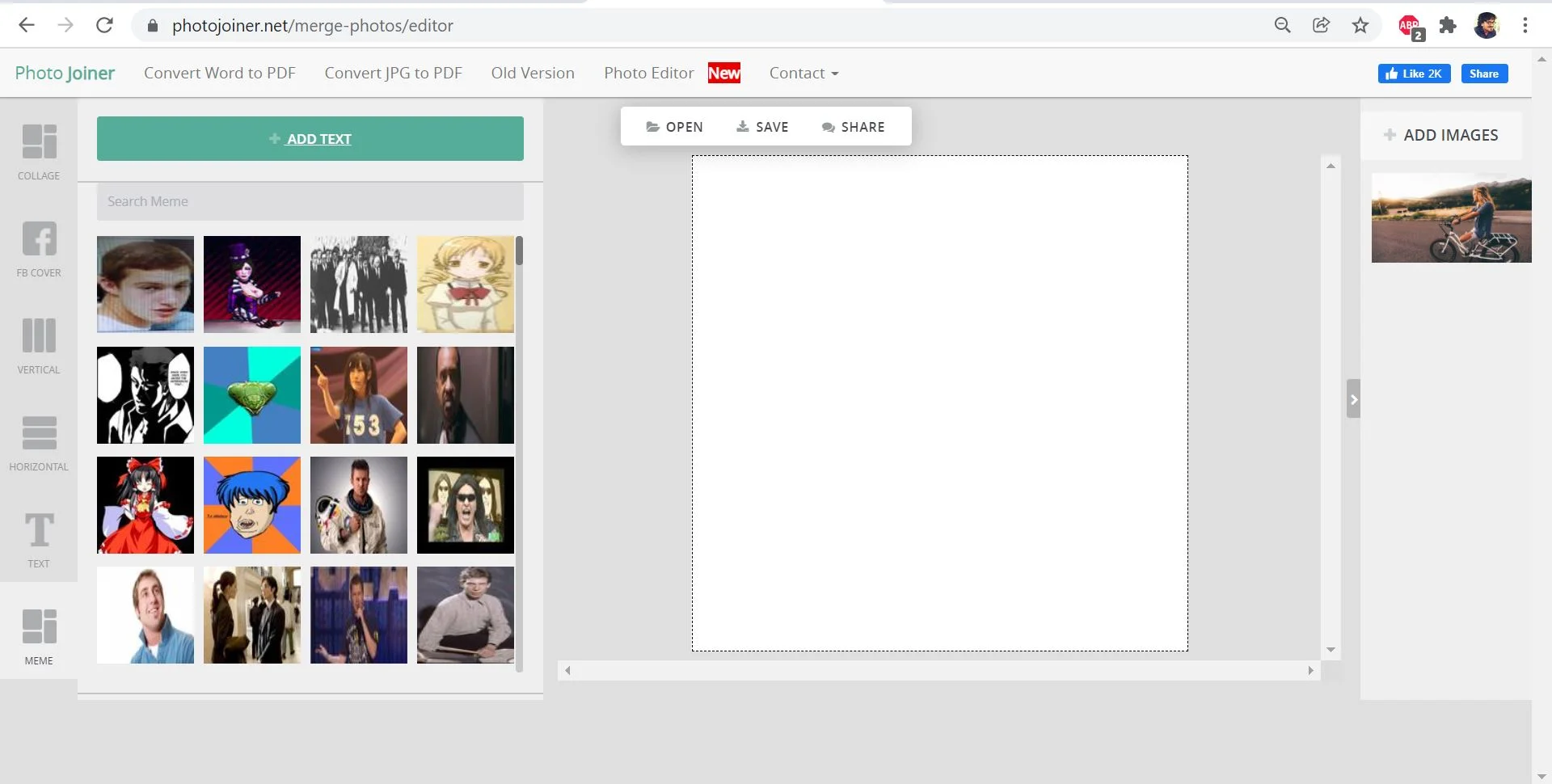 4. Facebook Cover
What's the first thing a viewer sees when they visit your Facebook profile or page? Your Facebook cover. That's why you need an image that wows your audience from the first look.
Photo Joiner helps you create stellar Facebook covers. You can choose from a large number of templates to combine your pictures.
You also don't have to worry about the size or template. It's built to match the dimensions set by Facebook. So all you have to do is select the images you want to show and save them!
Take a Good Picture to Edit with Photo Joiner
Here is a quick guide on how to create your joiner photograph.
Step 1: Finding the Right Location
The first thing you need to do is find a beautiful location. Find a spot that has many details to it. Then, see how you can construct a story with it. Which angles bring out the best light? What will highlight specific locations the best?
Fix a subject too. Who will be the target of your lenses? Will you have a friend model for you? Or ask your pet to run around? If you're in an urban location, find a striking building. Find a spot that inspires your creativity and let the story unfold.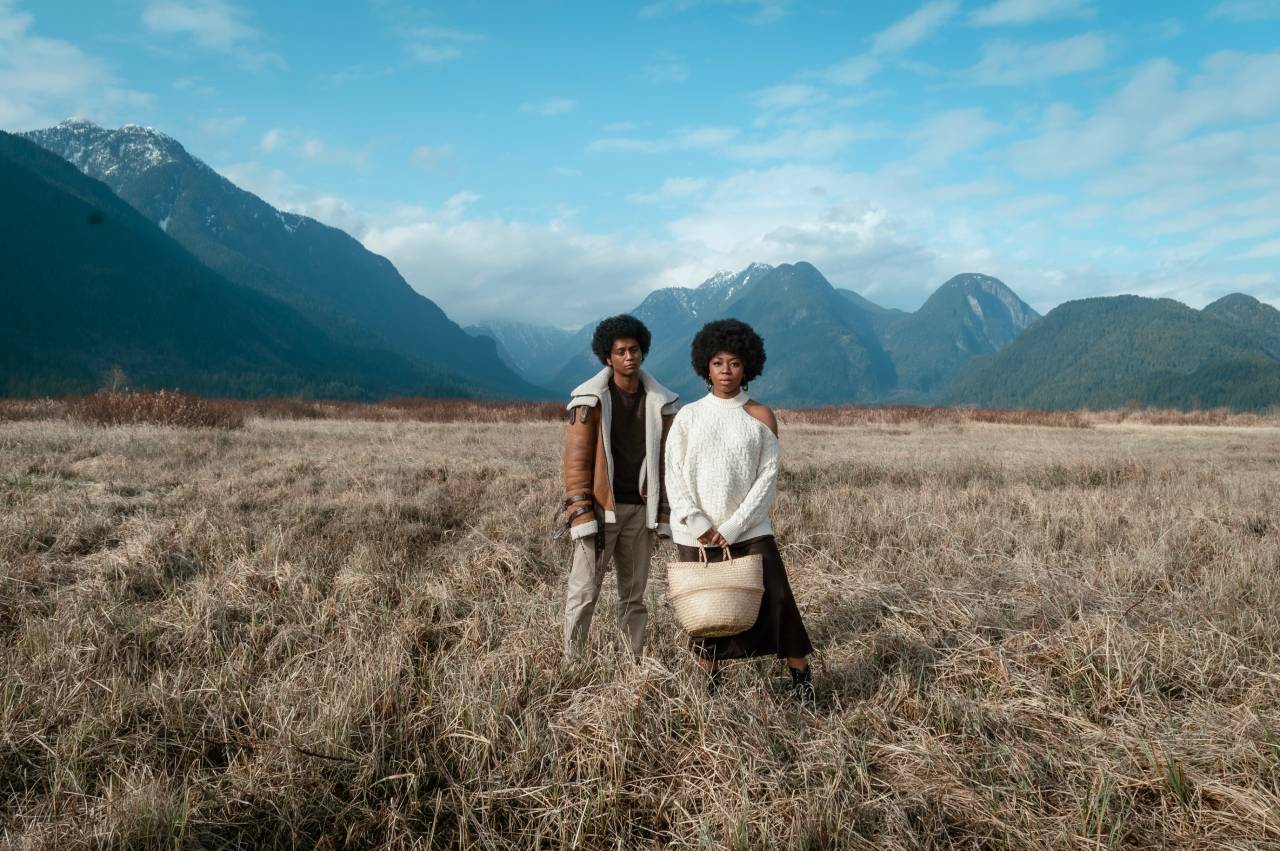 Step 2: Capturing Images
Grab your camera, fix your lenses and start taking pictures. Get a stand and start snapping. All the images don't have to be perfect. Pro-tip: You can always edit the photos later. Find a place that gives you a great field of vision and start snapping.
Refocus all your images so you can add new depths to them. Remember, every shot you take will add to the story. See what you're missing out on and move around to find new perspectives. Of course, not everything will fit perfectly. Just stitch them together later!
How to make a collage photo in Photo Joiner?
This step is where Photo Joiner comes in. All the images won't be in the ideal position. Let your creativity fly here. Use the readjustment features to bring the image to the perfect light. Select your excellent photos and align them together.
Use the tools to alter the images. You can change the proportion or size too. There are filters to edit the photos similarly, too. Finally, use Photo Joiner to bring all your captures together and share a tale.
Step 1: Upload the Pictures
Click on "Open" and select "Computer". Upload the pictures you need to collage in the Photojoiner window. You'll see the pictures stacking up on the right side of the screen.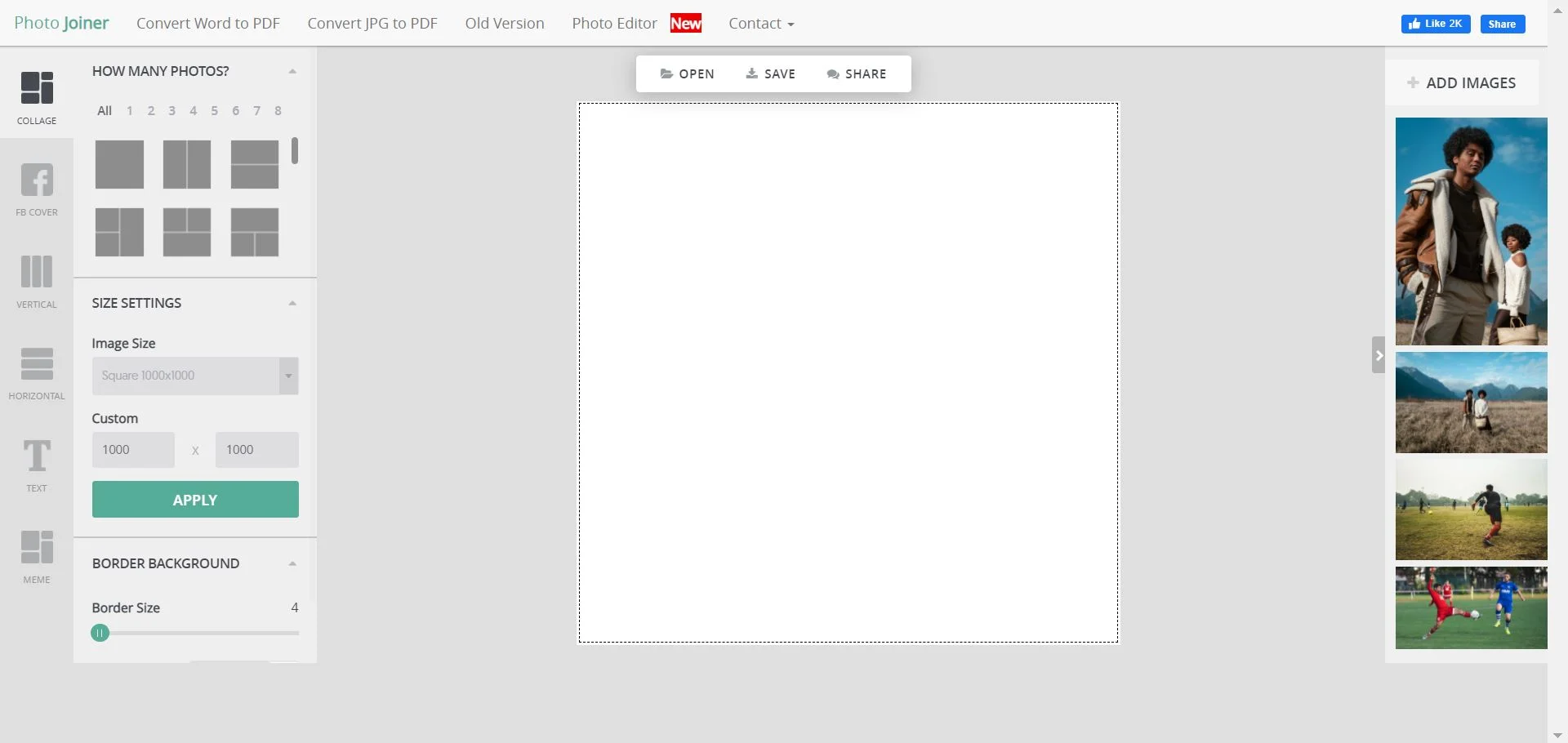 Step 2: Choose the Layout
On the left side of the screen, you'll find the layouts. Choose the one that fits your potential collaging requirements. For example, if you have 4 photos to collage, choose the one that can afford 4 pictures on a single page.
Step 3: Drag the Photos into the Layout
Now, drag the pictures one by one into the layout. Reassemble the pictures as you need.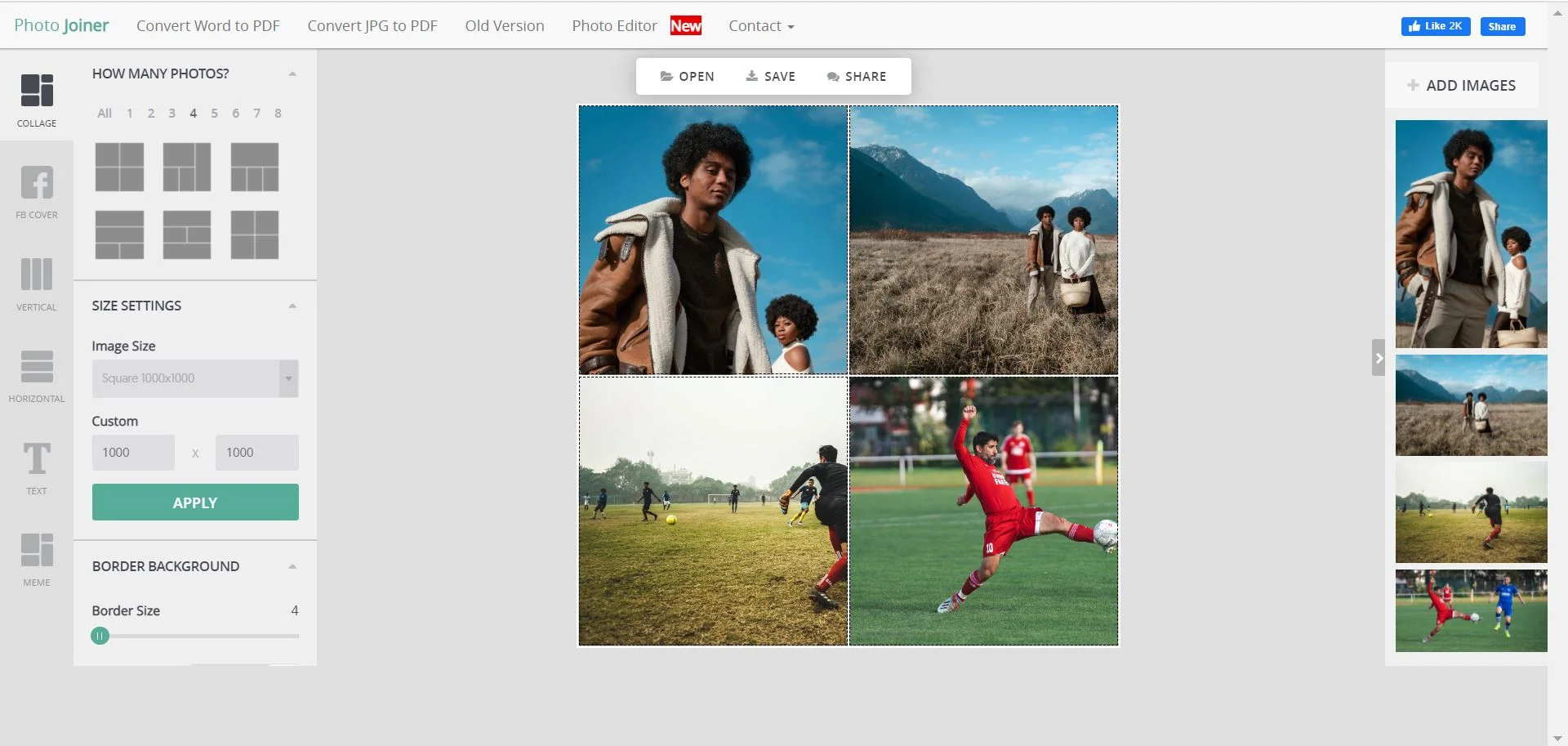 Step 4: Save the Collage
Click on the "Save" button on top of the screen. It'll take you to another page where you'll see the download button. Download the picture and use it wherever you want.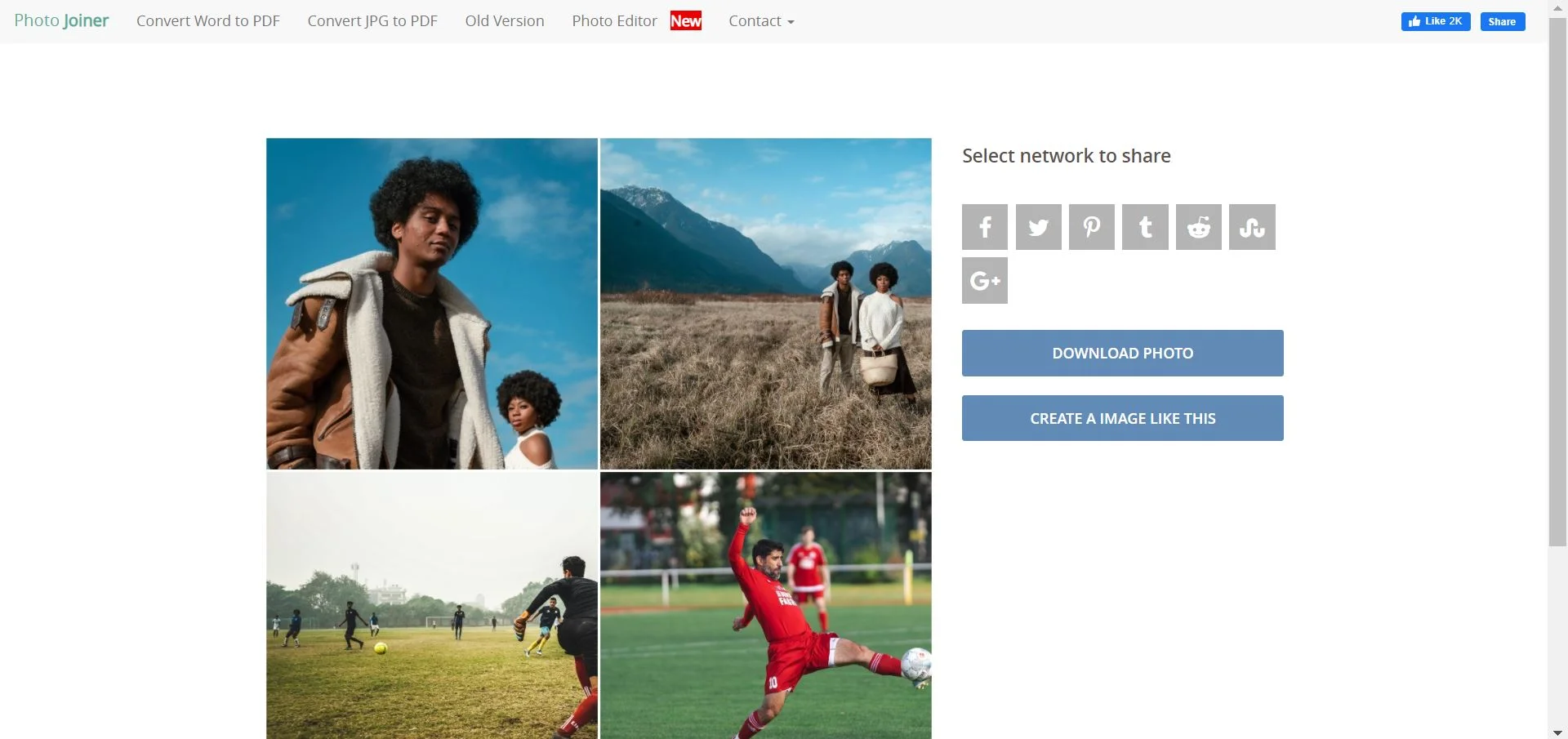 Pros
The platform is free to use!
You can use in-built templates to design your collages.
There are additional tools like compressors you can use to decrease file sizes.
This cloud tool edits your images in seconds!
Cons
Sometimes the application crashes and a black or white screen appears.
Photo Joiner doesn't work well on tablets or iPads.
You can't save high-quality images on devices. However, you need to check your storage before starting then.
Frequently Asked Questions
Take a look at some of the frequently asked questions about Photo Joiner.
Final Word
Joiner photographs are a strange but attractive way to showcase images. There's a whimsical touch to it. That's why they are still popular this way. Share a story with a single image.
Photo Joiner is an excellent platform to merge your images online. The interface is easy to understand, and the overall process takes just a few minutes. Use Photo Joiner to create your desired collages, memes, and Facebook covers with ease.