BeFunky Photo Editor
BeFunky is a kind of online-based versatile photo editing tool. It comes with a lot of editing functionalities that are able to give your photo a whole new look. It has both free and premium or paid versions, and you don't have to register/create an account to use the free version. The paid version also offers a charge that breaks your bank. So, if you are looking for an online-based versatile photo editing tool, you should consider the BeFunky tool. This one is the best option to go for you.
What is BeFunky Photo Editor?
BeFunky is one of the most effective and versatile photo editing tools. This tool simplifies the photo editing task and gives your photo a new appearance. This online-based photo editor works with almost every device and with every web browser. BeFunky provides a lot of advanced and versatile editing functionalities.
This editing tool comes with a simple-to-use user interface that is very easy to control. You can edit your photo without any previous experience. However, for more skilled users, the capabilities and features of this application will not be enough. Small businesses will benefit from this web-based editing solution by having access to art and design, picture editing, collage creation, and other features.
Features of BeFunky
BeFunky comes with a lot of editing feature that makes it easy to edit image and make your image more amazing. Here are some features of this online-based photo editing tool below:
Unique Templates
It is as simple as icing on the cake when working with a Graphic Designer. You may make use of a variety of readily adjustable instruments. In addition, the Designer provides a large selection of pre-built templates from which to pick.
This online-based editing tool is very fantastic, but you must upgrade to the premium version in order to get access to all of its features. There are thousands of templates available to choose from. You may make your own designs from scratch if you already have an idea.
A Set of Premium Filter
There are numerous sets of effects available, the most common of which is the "Effects" category. In addition, there are artistic effects such as "Artsy" as well as "Textures," which include intriguing aspects such as "Bokeh," that can also be used.
This collection may be sufficient if your goal is to enhance the shot and share it on social media. In only a few seconds, BeFunky may provide the desired results. There are several ways to convert a regular photo into an animation or even a painting. It's all up to you and what kind of creative impact you're hoping to have.
Ready-Made Layouts
BeFunky has extensive collections of fully prepared collage layouts, collectively referred to as "Layouts," available for usage. BeFunky collage creator also has layouts for social media platforms such as Facebook as well as Pinterest. Other free editing applications do not have a feature like this, and it is pretty tricky to locate anything comparable in other free editing programs.
Elegant typefaces, vibrant patterns, and amusing backdrop colors are all included in this collection. In order to make your life easier, the Collage photo Maker also provides users with the option of simply uploading photographs to the Photo Wizards. The tool automatically makes a visually appealing collage.
Advanced Export
You may save a picture to your Google Drive, Dropbox, and now all the social networking sites with the BeFunky tool. It is possible to save the picture to a desktop in two distinct formats, both of which have varying levels of quality. Because it is an uncompressed format, PNG is the best choice for storing.
The most astonishing part is that if you quit the software without saving your work and then restart it, you will be provided the option to recover all of your modifications since they are all preserved in the BeFunky clouds.
BeFunky Plans & Pricing
BeFunky, an online picture editor, is free to use. Although it is free to use the tool, it is totally free from ads. There is no price for their job despite its outstanding quality. If we are merely talking more about free collages maker and the restricted functionality, it is relevant.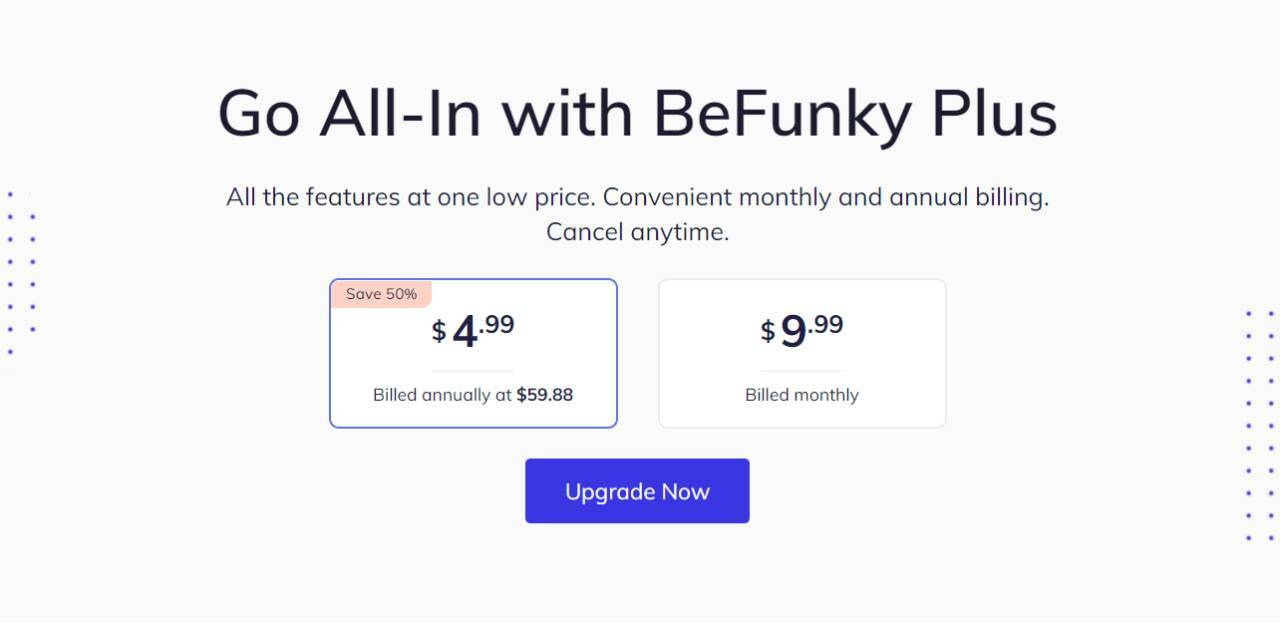 The incredible thing is that this tool never costs such an amount that it will break your account. You have to pay 59.88 dollars every year or 9.99 dollars for every month. So, if you are willing to get access to all the editing functions of this tool, you have to upgrade your plan.
How to edit a photo in BeFunky photo editor?
Since this tool comes with a user-friendly interface, you don't have to panic to edit photos with this tool. It is straightforward to edit the photo in BeFunky.
Step 01: Access the Tool
To edit a photo in BeFunky photo editor, first of all, you have to access this tool. So, open any web browsing software on your device and then go to befunky.com. In the BeFunky interface, you will find the Get Started button to start editing; click on the Get Start button.
While you click this button, a new window will open where you have to choose what you would like to do. From this window, click on Edit a Photo option that will let you edit any image.
Step 02: Import Image
BeFunky let you import images in 2 easy ways. You can import images manually by clicking the Open option. Here you will find several sources, including Computer, Google Drive, and Google Photo to import images. You can also link your Facebook Account, Dropbox, or even Webcam to import images.
And the 2nd method is the Drag and drop process. Go to your Desktop/laptop storage, select the target image you want to edit, and drag and drop the image to the BeFunky interface.
Step 03: Image Adjustment
This online photo editing tool allows users to apply several adjustment functionalities to the image. After importing, the image to the tool's interface, click on the Edit option that lets you Crop or Resize the image, Cutout and color replacement, fill light and Auto Enhance, and many other Adjustment functions.
Although there are a lot of adjustment features, you can't access all of them without Upgrade. But the free version also lets you apply some basic adjustment features like crop, resize, rotate, Color balance, Exposure, and other function. So, apply them one by one and make the picture more amazing.
Step 04: Apply Effect and Artsy
Now apply several effects to the image. BeFunky has a lot of effects and Artsy to apply to your image. However, one thing should mention is that you have to upgrade or purchase the tool to apply several effects as well as Artsy.
Step 05: Apply Frame and Overlays
One of the most outstanding features of this online-based photo editing tool is that it allows you to apply Frames as well as Overlay them to the image. However, to access all the frame and overlay designs, you have to upgrade your account.
Overlays will make your image more unique and give you a whole new look.
Step 06: Apply Text and Textures
Now apply any test to the image and then apply textures to it. There is a lot of text and textures option to use. However, to access all the texture designs, you have to upgrade the tool.
Step 07: Export the Image
After completing the editing task, now it is time to save the edited file. To export the file, click on Save and then choose where you save this file. After choosing the storage, you have to select the image type you want and then ensure the quality; after all of these steps, click the save button from finalizing the exporting task.
How to make a collage photo using BeFunky Collage Maker?
One of the most impressive features of this editor is that it let you make a college photo. It is also effortless and easy to make a collage photo with this tool. Follow this step-by-step guide to make a collage photo using the BeFunky collage maker.
Step 01: Get Access to the Tool
To access the tool, go to any browser and then search for Befunky.Com and then click on Get Started.
After clicking Get started, a new window will open. Click on the Create College option from here to make a collage photo.
Step 02: Select the Layout and Grid
After clicking Create a college, you will get a default grid design including three rows and three Colum. You can use this grid if you want to make a collage photo using 6 several images.
If this grid design and layout don't match your expectation, then you can change this layout. To change the layout grid, go to the Layout option and then go to the grid. Here you will find a lot of grid designs. If this grid design and layout don't match your expectation, then you can change this layout. However, you have to upgrade your account to use these grids if you are using a free plan.
There is a lot of option available to change the layout. One of the most remarkable features of this tool is that it has several suitable layouts for Facebook and Pinterest posts.
Step 03: Import images
After selecting your desired layout design, now it is time to import images. So, click on the Image Manager and then click on the computer. According to the grid number, choose the images. Since we select a layout that has 3 Grid, so we import three images.
Step 04: Place the images on the Grids
Now drag and drop an image to a grid. Place all of your images of all of the gride.
Now Adjust the grid size according to the picture size and make a perfect placement for your images.
Step 05: Adjusts the design
Now adjust the image formation of the layout. BeFunky lets you adjust the spacing, Background color, Aspect Ratio, and many more. Apply all the functions one by one and make the college photo more amazing.
After completing all the tasks, you can now export this image to your computer.
PROS and CONS of BeFunky
Pros
This tool has a simple and user-friendly interface.
No need to create/register to use this editing tool
This tool support full display photo editing mood
It works with all devices as well as all web browsers.
Cons
Some editing functions and features are a bit tacky
Most of the function is not available in the free version
FAQs
Final Word
BeFunky contains a lot of valuable features, and the pricing is relatively reasonable for what you get. Using this tool, you may access and store your photographs from your mobile device or a shared cloud storage account. It's reasonably priced, and the programming is straightforward.