In-depth Kleki Paint tool review
For all the content creators, graphic artists, and photographers out there, finding the right tool for painting and editing is an excruciating job. Not only do you need a platform or software that can handle all your editing tasks but also something that is feature-rich, and easy to use.
And that is exactly where the Kleki paint tool comes into play. This revolutionary web-based painting and editing tool offers all the features you can ask for and much more. Keeping that in mind, we have come to you with an in-depth Kleki paint tool review.
So, without any further ado, let us dive right in.
What is the Kleki paint tool?
Are you an artist who wants a blank canvas always within your reach? Then Kleki paint tool is what you are looking for. This portable web app is completely free to use and can be used on almost any modern device.
This online photo editor and paint tool work especially well if you are looking for cartoon-style art. Instead of focusing on the realistic art style, Kleki painting focuses more on fun and cool art style.
You can use different sets of brushes, layers, and filters to create and enhance your image. Various options within the app allow you to add contrast, hues, curves and as well as tweak with perspective.
If you are using a touch screen, you are in for a treat as well. This web application can take inputs from various devices like pen, touch, mouse, and also trackpad.
Although the community of the application is not as big as we would like it to be, you will find enough resources and tutorials to get you started.
Features of Kleki paint tool
Kleki is an amazing tool, designed to enhance your creativity and take your work of art to the next level. Below are some of the noteworthy features of the kleki paint tool that made us fall in love with the tool instantly.
This neat little web app has a fairly simple layout that will help you to get started within a few minutes. Whether you are a digital art guru or a complete newbie, you will not face any problems while using the app. All the interface and layout are pretty self-explanatory.
Potential teaching tool.  The kleki paint tool has all that is needed to get users to start creating their very own digital drawings. Due to its amazingly easy-to-use interface and availability as a chrome plugin, it is a great choice for art teachers.
Did we mention that it works as a chrome extension as well? The chrome app of kleki is not only supported on the Chrome browser but also on other popular browsers like Firefox, Opera, Microsoft Edge, Brave, Vivaldi, and much more.
Autosave. Tired of losing your hours of work because you forgot to save the file? Kleki has got your back. If you are using kleki on your web browser, and your computer accidentally restarts, your work will still be there once you open the browser.
Layers. In the app, you can add up to 8 layers and start coloring each layer individually.
Specific brushes for specific needs. There are 4 different brushes on the kleki paint tool that you can use according to your need. Each brush is customizable on factors likes, size, opacity, blending, and scaling.
Lots of editing features. In the edit section of the app, there are multiple editing tools like,
Crop/ Resize.
Flip.
Perspective.
Transform.
Brightness and contrast adjustment.
Curves.
hue/ saturation adjustments.
Invert.
Tile shift.
Triangle blur.
Unsharp mask.
How to edit a photo in kleki? [Step by step guide]
Step 1:
To start editing photos in Kleki, go to kleki.com. You will be greeted with a window like the one given below.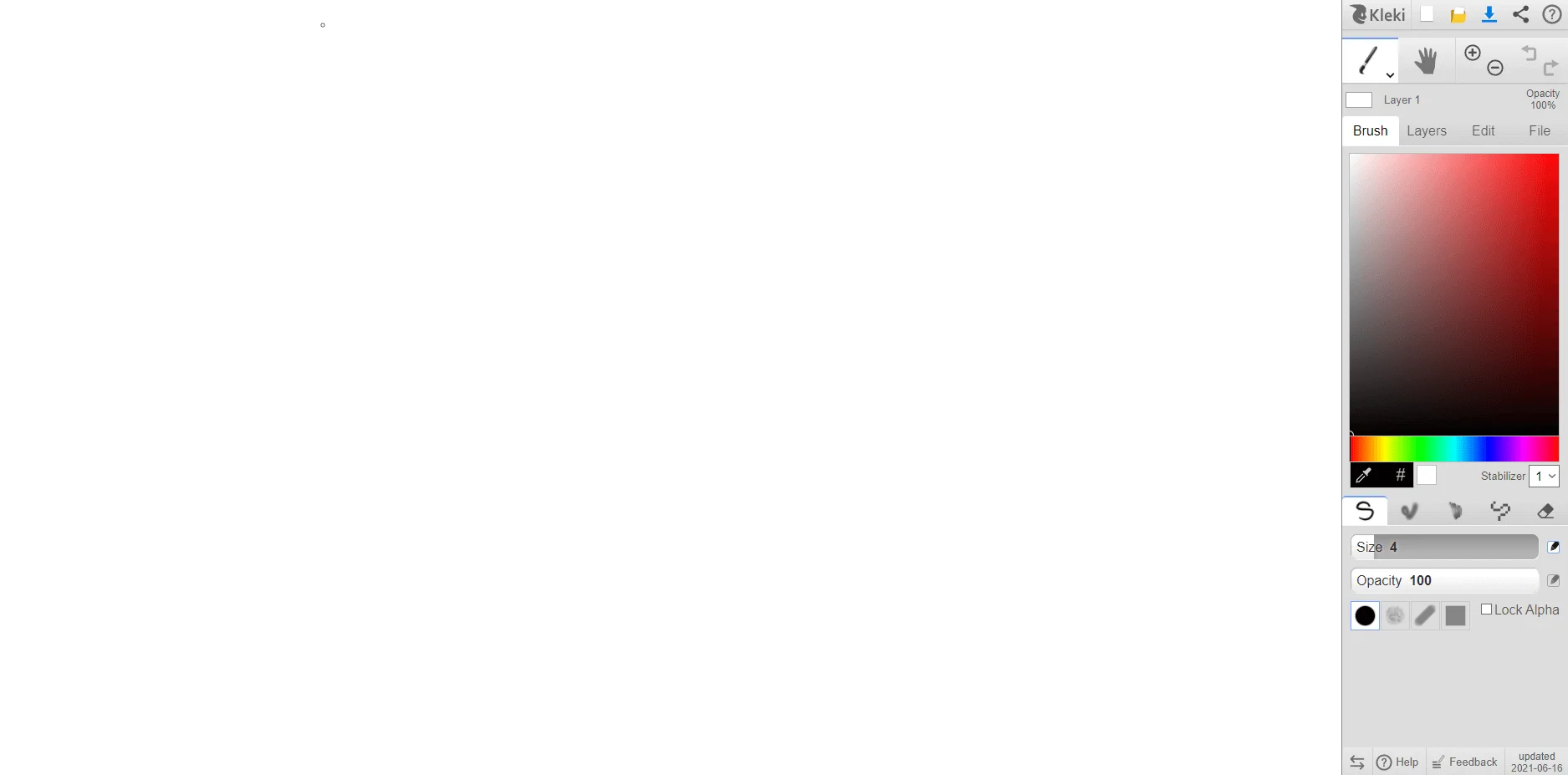 Step 2:
Once you are on the website, check out the right-side menu. Click on File and you will see an option to import a new file. Now simply upload the file you want to edit from your device.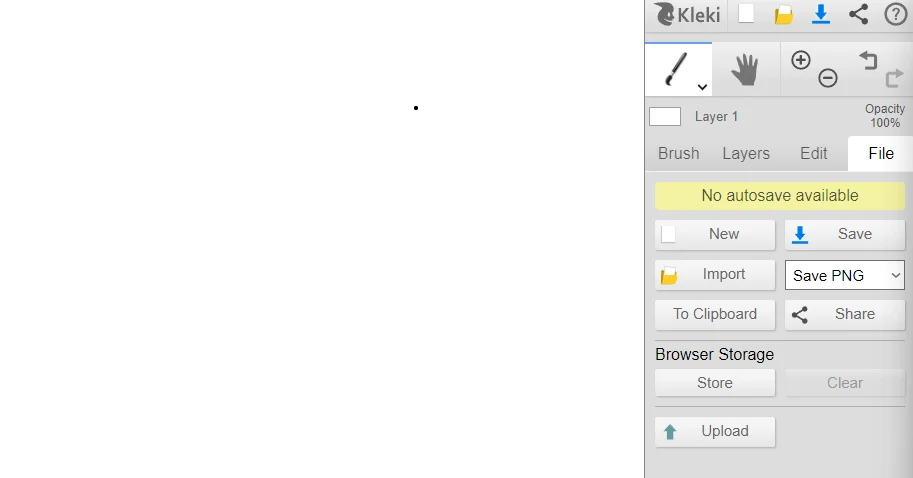 Step 3:
Once you select the file, you will get an option to import it as a layer or image.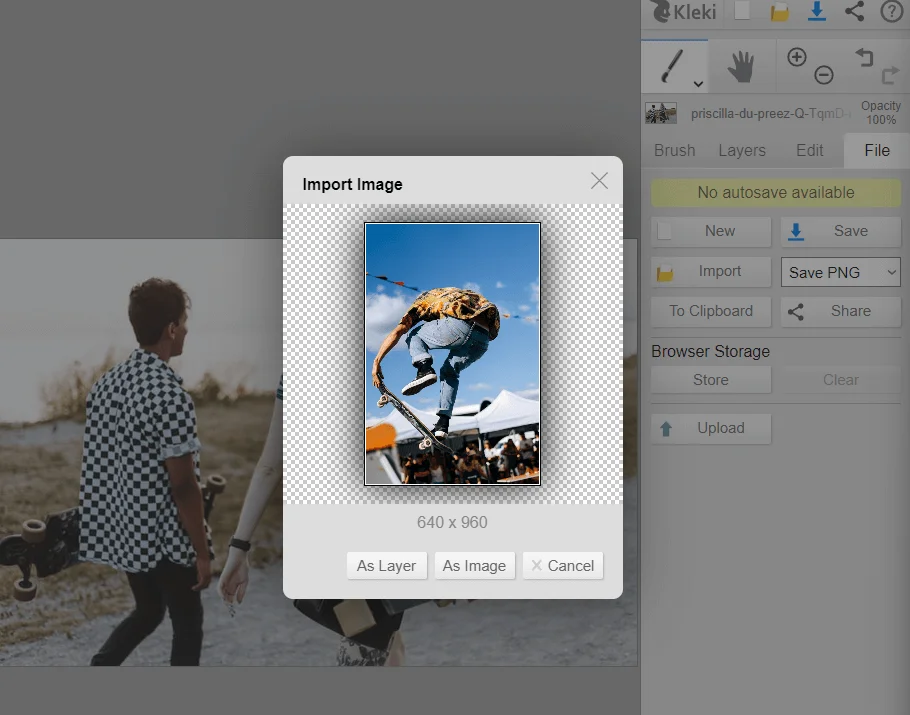 Step 4:
Once the image is uploaded, you can go to the edit menu on the right and start editing using the tools provided on the menu.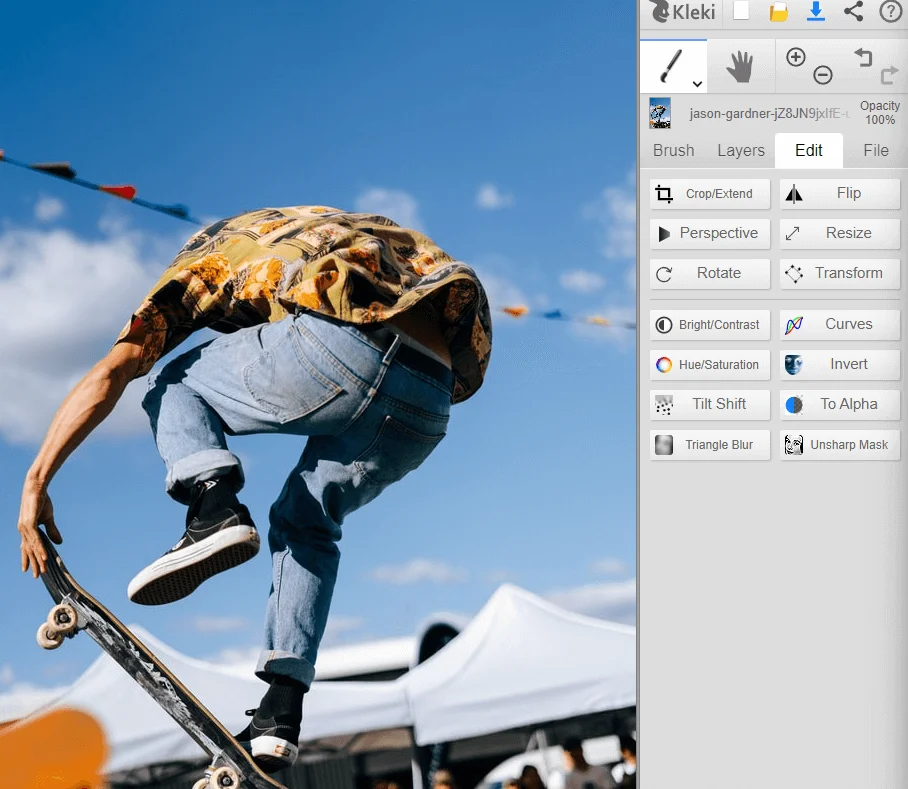 Step 5:
Once you are happy with the result, go back to the File menu and save it to your device offline. You can also directly upload or share the image from the kleki pain tool website.
PROS and CONS of kleki
Here are some of the things we loved and did not like about kleki.
Pros:
Fairly easy to use.
Perfect for creating graphic arts.
Beginner-friendly UI.
Completely free to use.
Perfect for those who do not have the hardware to run heavy image editing tools.
Cons:
Can support only up to 8 layers.
Needs more options for brushes
Cannot crop layers separately.
Average blending options.
FAQs
Final Word
That ends our todays kleki paint tool review. Considering a completely free-to-use web-based application, kleki offers all you might need to get started with digital drawing. You also get to enjoy a lot of editing features for your editing needs.
So, try kleki today and take your art to the next level.