For decades, Photoshop was an industry standard for picture editing. Nothing is close to its capabilities or mobile app support. Despite the various options Photoshop offers, the Photoshop CC application is just unique.
Adobe Photoshop is world-class imagery and design software at the foundation of every creative endeavor, from photo editing and composting to digital acrylics, animation, and graphic design. And now you can use Photoshop's capabilities over PC and iPad to generate inspiration anywhere.
Ready, but not sure where to start or how to download Photoshop? Are you wondering about the fact, is photoshop free? In this blog, we will identify the free version of photoshop and how to use it. We also explore how to use photoshop by using Photopea. Scroll the context if you want to obtain all your answers.
Is Photoshop Worth the Money?
For years, Photoshop lovers could only use photoshop by spending hundreds of dollars for a license or taking a cracked version of it to the more dismal parts of the internet. You can now obtain Photoshop for $9.99 a month via the Adobe Creative Cloud. A free trial version is also there for adoption.
Photoshop is the greatest, finest, and most other superlative application you like to cast into. It's the gold standard, and now it's such a must-have application in modern photography-loving culture. All this is true for one reason. The feature set of Photoshop is enormous.
It does include all the tools to edit your photographs. But Photoshop can also be used for graphic design, 3D modeling, vector drawings, web page creation, print files, and more. You can modify an image or graph somehow with other tools, But in Photoshop, you can do it better and quicker.
Is Photoshop Free? Can I Download Photoshop for free?
Yes, Photoshop may be downloaded free in a sense. You may use the full version of the program for 7 days with a free Photoshop trial. This provides you with 100% no-cost access to all the newest features and upgrades. A credit card to access the trial is not necessary.
To get started, visit the link below:
https://www.adobe.com/products/photoshop/free-trial-download.html
Free Photoshop is unlawful and certainly not advisable to download any other means. Not only is it piracy in software, but it's also hazardous as you risk viruses and malware to your device. You won't need to worry about these hazards if you either download or pay for the program in advance.
How to get Adobe Photoshop for Free?
Adobe Photoshop is the most popular photo and graphics software application by far. It is offered on the Adobe website exclusively as a monthly membership service.
Adobe amended its business strategy in 2013, and all Adobe Photoshop CS models were terminated. Adobe Photoshop is from that moment on only available as Adobe Creative Cloud's membership service.
You can no longer buy and keep this software – you have to pay a regular monthly membership charge to use the program as a "cloud" service through the Internet.
Only Photoshop you can't subscribe yourself. Only a bundle of Adobe applications allows you to sign up for Photoshop. To download Adobe Photoshop for free, sign up and reset the serial number in the adobe support file folder.xml application file. Repeat the technique and always hold your Photoshop test.
Sign Up Process for a Free 7 Days Trial
Adobe Photoshop is legal means it can be signed up for the free trial Adobe. It was 30 days trial for free before, but it has been cut to only 7 days.
You'd have to start paying a monthly subscription or lose access to the program once 7 days of free trial had passed. You may prolong your free Photoshop trial to over 7 days through a number of grey-area techniques.
We shall learn more about these approaches in the coming sections. In this part, we will focus on how to register for the seven-day free test.
To register for Adobe Photoshop for a 7-day free trial, complete the following steps:
Go to the free trial website of Adobe Photoshop.
On the left side of the display, click the Try free option.
Now open Photoshop>Photo Plan.
Complete the form free of charge.
Your free trial begins now and lasts seven days.
Types of Other Creative Suite Subscription Plans
Adobe Photoshop is a program developed by Adobe for picture and graphics processing. It is by and away from the most popular specialized software. Used by Adobe Photoshop as a boxed package, you pay only once and have a lifelong experience.
Back at that time, it was known as the Adobe Photoshop Creative Suite. Adobe Photoshop CS 6, which was launched in 2012, was the last version of the program.
There are three different Photoshop membership plans/bundles:
Cost:
$20.99 a month. You will get a package of applications, including Adobe Photoshop, Fresco, Portfolio, fonts, and Spark, from desktop to mobile. Cloud storage over 100 GB
Cost:
$9,99 per month. The desktop and mobile Adobe applications you receive include Adobe Photoshop, Lightroom, Lightroom Classic, Portfolio, Fonts, and Spark. Cloud storage for more than 20 GB. One TB of cloud storage is available for an additional $10 per month.
Cost:
52,99 dollars per week. You can find Adobe Photoshop, Illustrator, Premiere Pro, InDevelopment, XD, Ports, Fountains, Spark, and more for all 20+ desktop and Mobile Adobe programs. Cloud storage over 100 GB
What Is Photopea?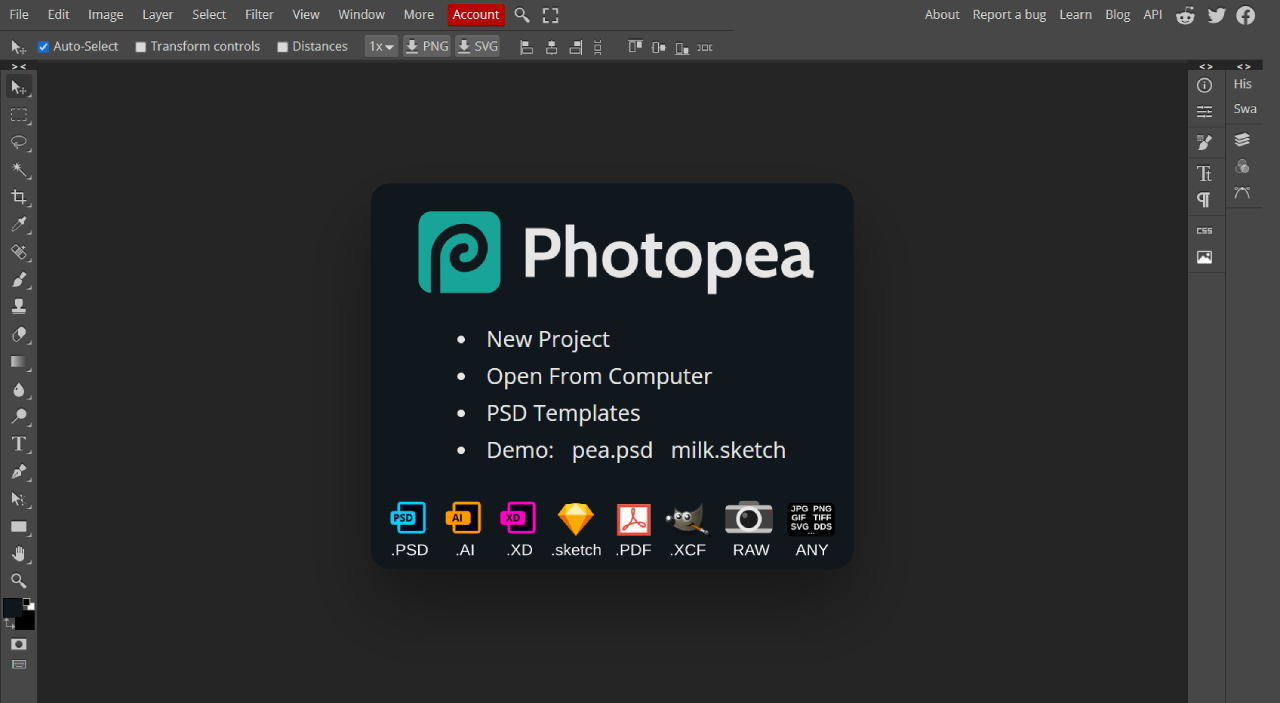 Photopea is an Adobe Photoshop alternative. It is a web-based graphic app and vector editor which is used to edit images, create drawings, build a web or convert between different image formats.
It upholds a combination of Web programs like Opera, Edge, Chrome, and Firefox. Photoshop PSD and JPEG, PNG, DNG, GIF, SVG, PDF, and other picture document types can be supported. Photopea locally keeps all documents and doesn't transfer any information to a worker while it is program-based.
Photopea is a sophisticated picture editor that can be used both for raster and vector images. Any picture file you can open and modify.
If you need to edit photographs easily, you fear installing software for picture editing, and you have a fear of cracking software, Photopea is not the wrong way to edit images for free.
It works on the HTML5 platform, the power of this online picture editing application. It's quick, attractive, and doesn't have to install add-ons, plug-ins, or anything. That's the difference between javascript-based online picture editing applications.
Use Photoshop Online By Photopea For Free
You're in the right place if you want to utilize Photoshop online program. Would you want alternative software Photoshop image editing without paying for money and without downloading the program? Then you can try Photopea.
Photopea is a Photoshop alternative such as Premium Software. It's software on the Web. Photoshop Software does not have to be installed on your Windows, macOS, and iPadOS PC. You may utilize your smartphone device with this program as well. Just have a connection to the internet.
Adobe Photoshop is a famous user software for photo editing, from simple picture editing to complex graphic creations. Photoshop has several versions; Photoshop CS6 and Photoshop CC are the most popular. However, all Photoshop versions require money, except the free Photoshop CS2 version, although it does not work entirely on current operating systems such as Windows 10.
Why Photopea Is Worth It?
But for both Adobe Windows and macOS, you may get a free Photoshop trial. It's just seven days.
Free Photoshop is not unlawful and is not suggested to be downloaded in any other manner. It is not only software policy but also questionable – on the Windows or macOS PC, you run the danger of viruses and malware.
Monthly pricing for Photoshop is US$20.99 per month and US$239.88 per year. Some people still learn picture editing. It's expensive for some. But for these customers, Photopea solved this costly problem.
Photoshop Premium program may be used free of charge online. Free of charge for all premium features of this web software. It saves money and hard disk space for your PC.
With Photopea, you will feel comfortable because it looks similar to Photoshop. So why not Photopea for your Windows or macOS this time?
How to Edit Photos on Photopea?
This picture editor is exceptionally straightforward to use.
First, open and connect to your computer.
Open your site navigation and visit onlinephotosoft.com.
Now, from the top left corner, click on "File."
Then start a "New Project," or you may upload your computer for existing picture files. You may either open the image using the picture URL or drop it directly.
Now, your pictures may be edited.
Use the editing tools at the top of the left panel; most functions are Photoshop software-like.
Save as PSD or PNG, SVG, GIF, PDF, and more when your photos are finished.
FAQs
Final Word
Photoshop CC's image-editing application is Adobe's flagship. There are plentiful solid reasons why picture editing continues to be the industry-standard software worldwide. It is clever, quick, and offers a comprehensive and robust tool to make your thinking come alive.
It continues to be the preferred option for professional creators in layered image editing – including typography, 3D modeling, and sketching. With new AI upgrades, your process may be even more streamlined. So why not use photoshop to improve your capabilities in photo editing?